KTR presented FTCCI Excellence Awards 2021 to nineteen companies, and entrepreneurs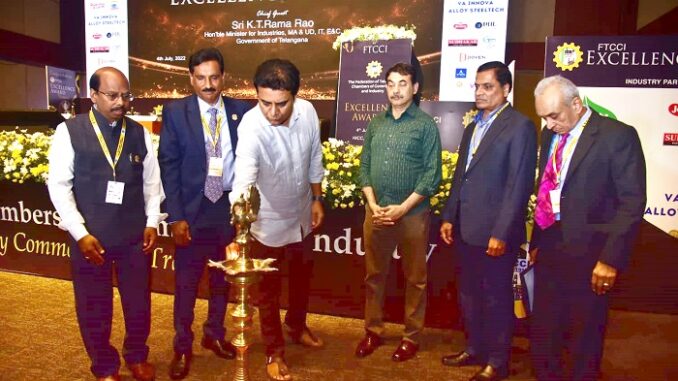 Stay connected with Business News This Week for business news, news this week, news headlines, business news, health, education, startups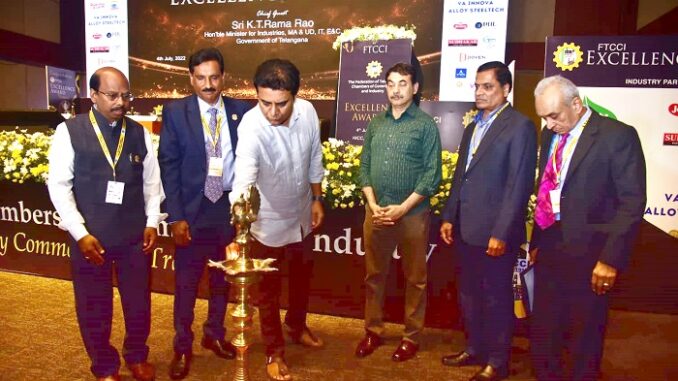 More than 24% investments that come into the state are repetitive, shows their trust in us: KTR
Hyderabad, July 2022….. Mr K.T. Rama Rao, Minister for Industries, MA & UD, IT, E & C, Government of Telangana to presented FTCCI Excellence Awards in a special function held at HICC, Madhapur on Monday evening.
Mr Jayesh Ranjan, Principal Secretary, I & C and IT, E & C, Government of Telangana also graced as Guest of Honour and joined Mr KT Rama Rao in presenting the awards.
Speaking on the occasion KT Rama Rao reminded his audience how industry was facing power crisis, power holidays in 2014, just before Telangana was formed. Now it has uninterrupted quality power and no power holidays and TS iPass, ensuring not only ease of business, but peace of doing business. Industries have got right to self-certificate which not many states in the country can boast of.
The state Telangana is mentioned with respect everywhere in the world because of its remarkable performance, he said.
India and China are big nations. China is a homogenous country but India is diverse. Culture, language change in every 150 to 200 kms. So, when you invest in India choose right gateway, KT Rama Rao said.
In the last eight years we have not involved in any corrupt practices, he added
Private sector is generating more employment than the government. You will always have government support he told the audience.
More than 24% investments into the state are repetitive, shows their trust in us, he informed the audience
Responding to the what Mr Bhaskar Reddy, President of FTCCI said earlier, KTR agreed that decentralisation of industries is important. Most of the industries are located in Hyderabad and surrounding areas. There are several sectors which should be used for decentralisation. It is the only way to decongest Hyderabad, he said.
The industries minister informed that T-Hub like plug and play facilities either have come up already or coming up in several rural areas such as Nalgonda, Khammam, Mahboobnagar, Nizamabad, Warangal and Karimnagar.
Responding to another request, he said incentives to industries which are pending will be looked into and MSMEs will be given priority.
In the last eight years Telangana made rapid strides in all fronts. We are unfolding five revolutions such as Green, Blue, White, Pink and Yellow he informed.
Jayesh Ranjan while congratulating award winners he said you made Telangana proud with your achievements. What you have done becomes a model for others he told them. We always tell new investors to talk to the existing investors before you invest in the state which gives them confidence he told.
Giving his welcome address Mr Bhasker Reddy added that the Federation instituted Awards to encourage excellence. I am sure that the awardees will continue to serve the cause of the country in general and the state of Telangana in particular in future with all dedication and determination.
Telangana industrial eco system is growing rapidly with robust infrastructure. FTCCI encourages entrepreneurs and enterprises to excel in their respective fields and create value to the economy and society, he added.
Our main focus is on MSME Sector Bhasker Reddy said. He also highlighted various initiatives of FTCCI
The Awards for this year are of much more significance as the industry has gone through and still continuing to face many challenges due to Covid-19 pandemic in the last two years, he said.
Telangana registered higher growth rate than the national average even during the critical years. My appreciation and thanks to everyone who ensured that the business can run as usual, the economy can function and progress, and livelihood of scores of people can be protected, Bhasker Reddy said.
As a Federation, we are making efforts to reach out to District level Chambers of Commerce and Industry to take the feedback on business environment and how we can, collectively, create necessary infrastructure to further the growth. He sought government help to strengthen the District Industrial Centres.
District-wise Domestic Product contribution to GSDP i.e. – Gross District Domestic Product (GDDP), the three districts – Hyderabad, Ranga Reddy and Medchal-Malkajigiri are contributing about 48% of GSDP and if 4 more districts' contribution – Nalagonda, Nizamabad, Sangareddy and Khammam is added, the total contribution is coming to around 60% and suggested that we tap the potential of other districts.
The FTCCI Excellence Awards is an annual feature of FTCCI.
The jury is headed by Sri Gowra Srinivas, Chairman, FTCCI Excellence Awards Committee addressed on the occasion We have received overwhelming response from well over 150 nominations. Out of them, the jury has chosen 19, he told.
The Jury of the Awards is comprising of Hon'ble Justice V. Bhasar Rao, Retired Judge, High Court of AP; Hon'ble Justice S. Govindarajulu, Retired Judge, High Court, SAP; Hon'ble Justice Challa Kodanda Rao, Retired Judge, High Court of Telangana and AP; Dr. M. Gopala Krishna, IAS retired; Sri Ajay Misra, IAS, retired and Dr. Surendra Kumar, Former Director & Scientists, Armament Research & Development Establishment (ARDE).
Some of the areas where awards were given are Exports, Marketing, Innovation, R&D Technology, Information Technology, Employee Welfare, Aerospace and Defence, New Renewable Energy, Tourism Promotion, Chamber/Association, Individuals – Scientist/Engineer, Woman Entrepreneur, Differently Abled Person and Social Welfare initiatives for Women Empowerment.
The awards promote the spirit of entrepreneurship initiated in the year 1974 and are continued year after year uninterruptedly.
The Awardees are given for their works or operations in the State of Telangana.
The response was encouraging, only proving that FTCCI Excellence Awards are the most sought after.
And the award winners include Hindustan Aeronautics Ltd; Metrochem API Pvt. Ltd; Sam Agritech Ltd; Befach 4x Pvt. Ltd; Ravi Foods Pvt. Ltd; Sarvotham Care Ltd; NCL Industries Ltd; Skyshade Daylights Pvt.Ltd; Converge Biotech Pvt.Ltd; Click2Clinic Healthcare; India Pvt.Ltd; Maithri Drugs Pvt Ltd; Sahasra Crop Science Pvt. Ltd; Ananth Technologies Ltd; Vividminds Technologies Pvt Ltd; Surendra Associates; Cyber Security Centre of Excellence; Nava Bharat Ventures Limited.
Dr.lbram Ganesh, a Scientist-F, International Advanced Research Centre for Powder Metallurgy and New Materials, chosen for Excellence in Science or Engineering and Ms Deepa Dadu, Founder, Enchante Café & Confectionery as Outstanding Woman Entrepreneur.
A very special Coffee Table Book outlining the profiles of the award winners is planned.