TRON Lightcycle Run is a roller coaster under construction behind Space Mountain in Magic Kingdom's Tomorrowland at Walt Disney World. This covers everything you need to know: likely opening date, new photos of canopy progress,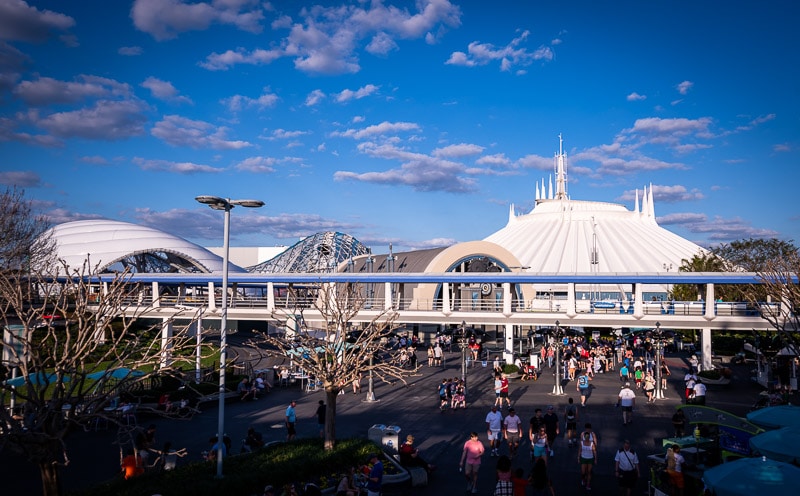 TRON Lightcycle Run is a roller coaster under construction behind Space Mountain in Magic Kingdom's Tomorrowland at Walt Disney World. This covers everything you need to know: likely opening date, new photos of canopy progress, video of ride vehicle testing, concept art, and answers to common questions. (Updated March 11, 2022.)
To bring you up to speed, this roller coaster was announced 5 years ago, is a clone of Shanghai Disneyland's TRON Lightcycle Power Run, and will be located between Tomorrowland Speedway and Storybook Circus in Fantasyland. Like Space Mountain, it'll be beyond the railway tracks that circle Magic Kingdom and, consequently, Walt Disney World Railroad is closed due to the roller coaster construction (and likely, operational cost-savings).
At the last two D23 Expos, Imagineering has shared new information and concept art about the TRON Lightcycle Run attraction. Walt Disney World has teased additional details since, and other info–including an opening timeframe–has been rumored. We've done Shanghai Disneyland's version of the ride several times, so a lot of the info that follows is also based on our firsthand experiences riding TRON Lightcycle Run…
In terms of basic background, the attraction is officially known as TRON Lightcycle / Run (or Tron Lightcycle Power Run) and is a semi-enclosed launched steel motorbike roller coaster attraction. The seats are similar to those on Avatar Flight of Passage at Animal Kingdom; riders sit on individual lightcycles, lean forward, grip a set of handlebars, and a pad behind the seat comes down and snuggly secures the rider in place.
As the name suggests, the roller coaster is based on the Tron films. It starts with guests entering a huge gravity/show building where they step onto the Grid and board their own motorbike or lightcycle. Like Space Mountain or Rock 'n' Roller Coaster, much of the ride is in a darkened show building, but unlike those, the climax of the attraction is a loop underneath a large color-changing canopy, which is also the iconic feature of the attraction's facade.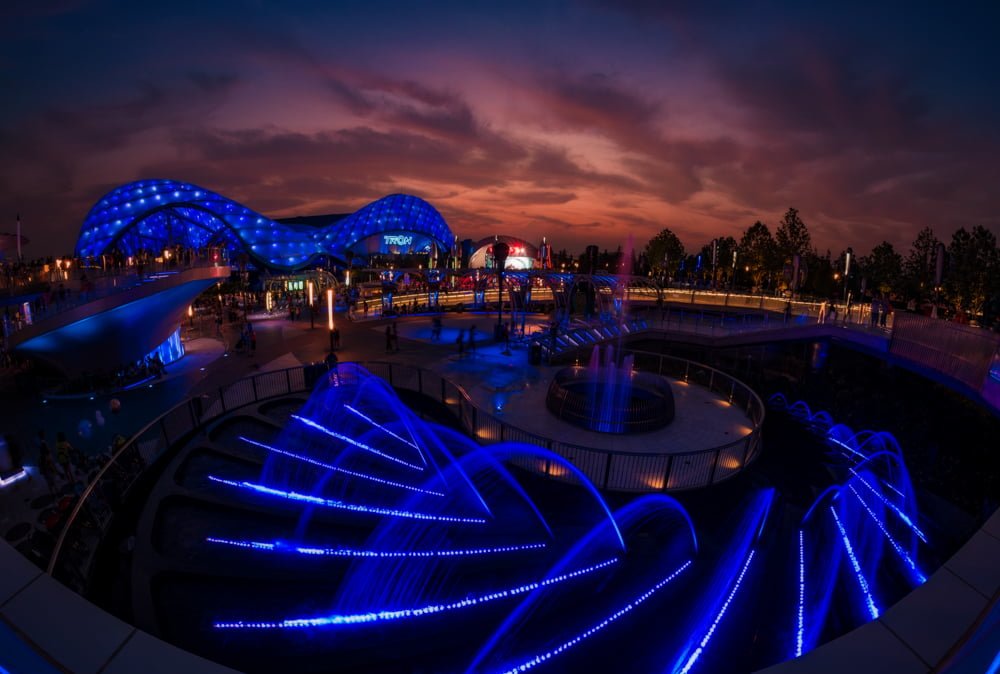 Above is how all of this looks at Shanghai Disneyland. The biggest difference there is that it's the focal point of Tomorrowland, with the entire land built around TRON Lightcycle Power Run. There are multiple approaches and viewing areas for the roller coaster, which I think is savvy.
By contrast, Magic Kingdom's TRON Lightcycle Run is nestled behind Space Mountain, will have a cramped approach between that ride's exit and Tomorrowland Speedway, and the only viewing area for the roller coaster under the canopy appears to be along the winding entrance and exit paths. (There are a few recipes for congestion here.)
Now let's take a look at some concept art for TRON Lightcycle Run at Magic Kingdom to see how its aesthetics will differ from the Shanghai Disneyland incarnation of the attraction…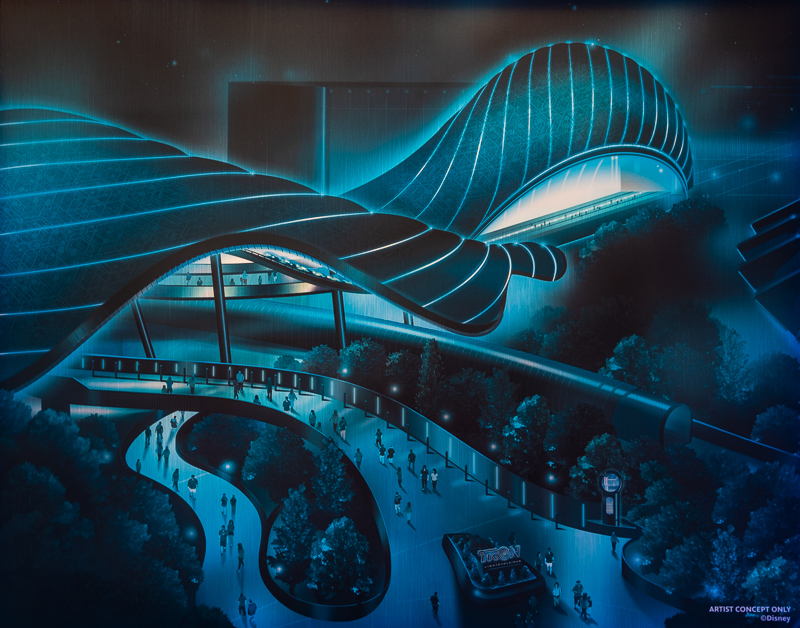 Above is the newest concept art for TRON Lightcycle Run, which has been tweaked from the original plans. There are a few things that jump out from this new art in terms of changes from its predecessor.
First, the marquee is now a planter out front of the attraction, rather than hanging from the top of the canopy. Next, the entrance is now a winding and accessible walkway, rather than stairs. Finally, there's what appears to be a (very small) tunnel for the train.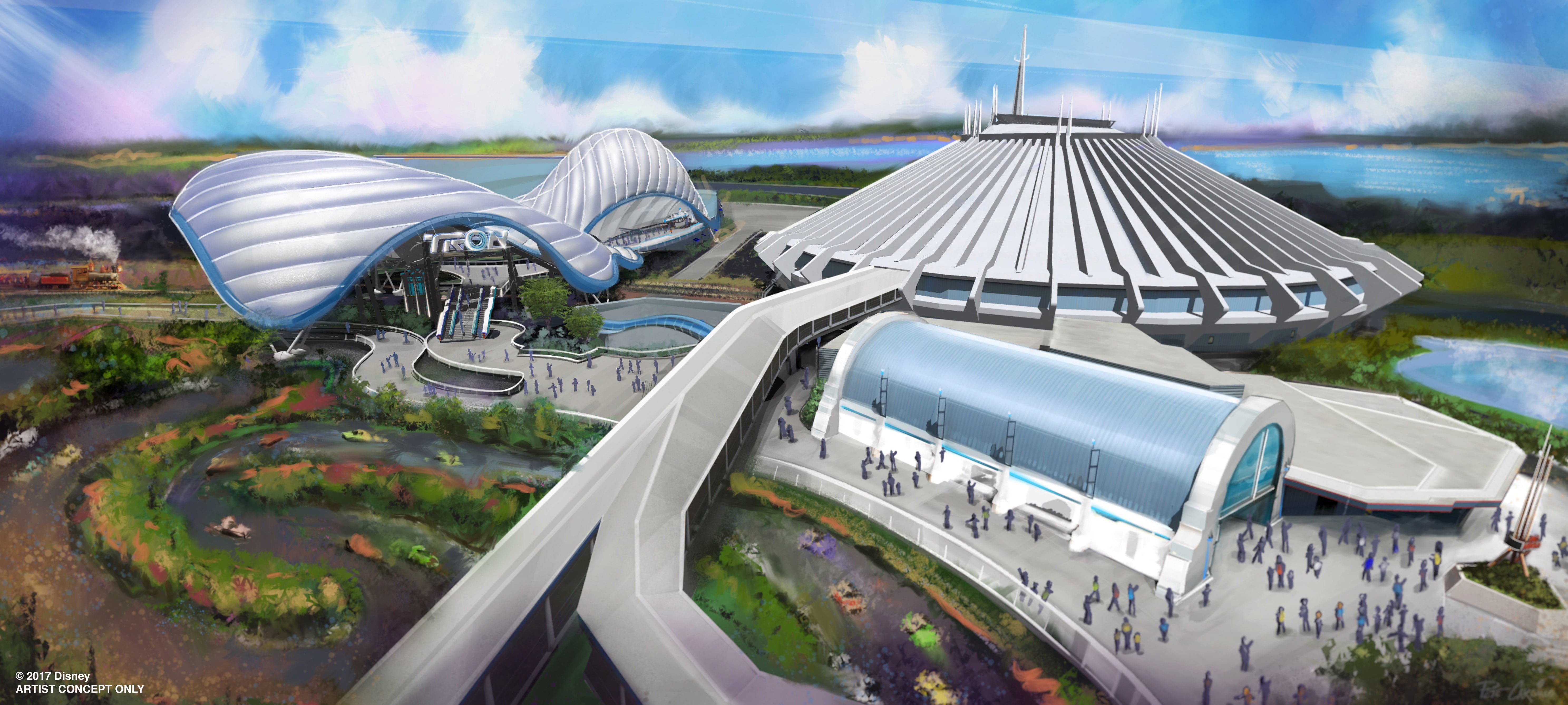 Above is the concept art from two years ago, which also shows how TRON Lightcycle Run fits with Space Mountain, the Tomorrowland Speedway, and Walt Disney World Railroad around it.
In that, you can see the stairs, path back to Storybook Circus, and original marquee. You can't really see where the train would go, and it appears the entrance/exit from the show building all follow one path down the stairs.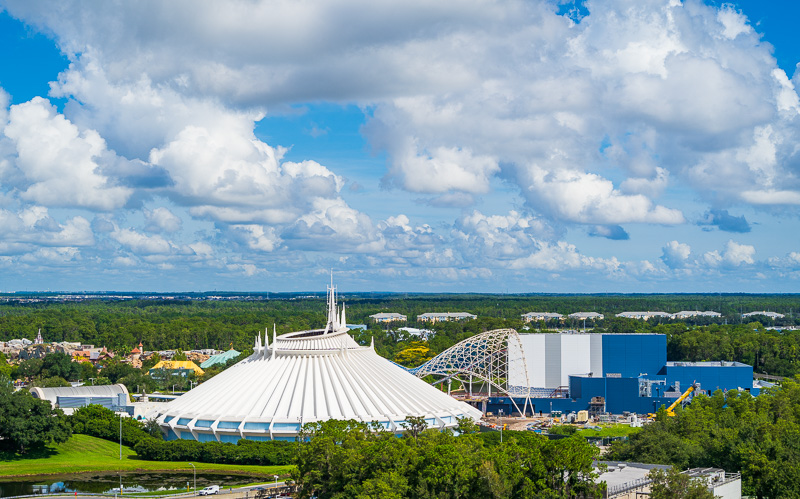 For those wanting an idea of how TRON Lightcycle Run will fit into the Magic Kingdom "skyline," above is an aerial view from last summer before the canopy cushions were installed. Here you can also see just how deep the gravity building is, extending all the way back to World Dr. on the far side of Magic Kingdom.
While the gravity building is prominent in these photos, it should be noted that this is an extreme angle. From within Tomorrowland and when approaching TRON Lightcycle Run, guests likely won't be able to see the 'big box.' It's not visible from most of Magic Kingdom; just as is the case at Shanghai Disneyland.
When the canopy is finished, it'll look beautiful and be what draws the eye of most guests.
March 2022 TRON Lightcycle Run Construction Update
Walt Disney Imagineering will soon celebrate a significant milestone on the construction of TRON Lightcycle Run, as the ride vehicles will soon appear on the track for a process known as push/pull testing. During this, the seven-vehicle roller coaster trains are slowly moved through the entire ride track.
Once the track is completely ready, trains will begin launch tests at incremental speeds, eventually working their way up to full-speed launches. All of this will be visible to guests in Tomorrowland at Magic Kingdom. Above is a new behind-the-scenes video from Executive Ride Engineer, Jerold Kaplan, as the Imagineers prepares for this important milestone.
While we're waiting for that testing to begin, here's a look at construction progress…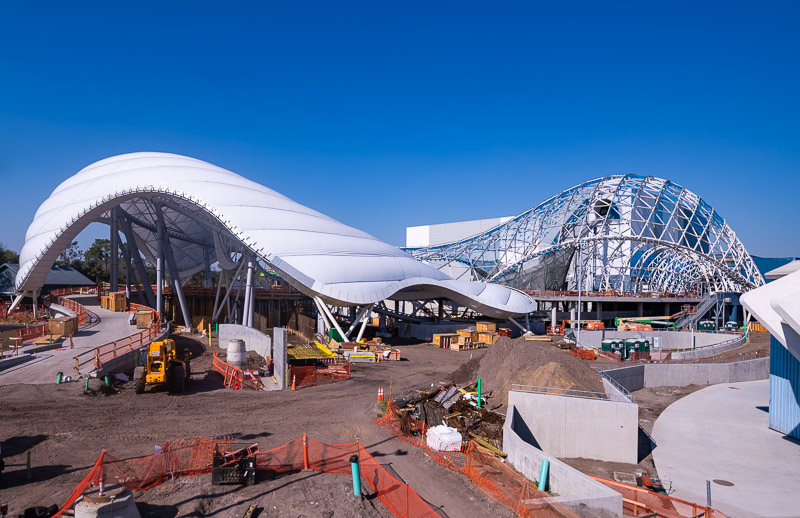 There's been a lot of progress on TRON Lightcycle Run's construction in the last several months. Like other projects that kicked into high gear with the start of the new fiscal year, work on TRON Lightcycle Run has accelerated since around the start of Walt Disney World's 50th Anniversary.
The difference in the number of workers around the construction site in March 2022 as compared to this time one year ago is pronounced. You can spot dozens of workers at any given moment now, versus a skeleton crew early last year. Some days, nothing was happening at all.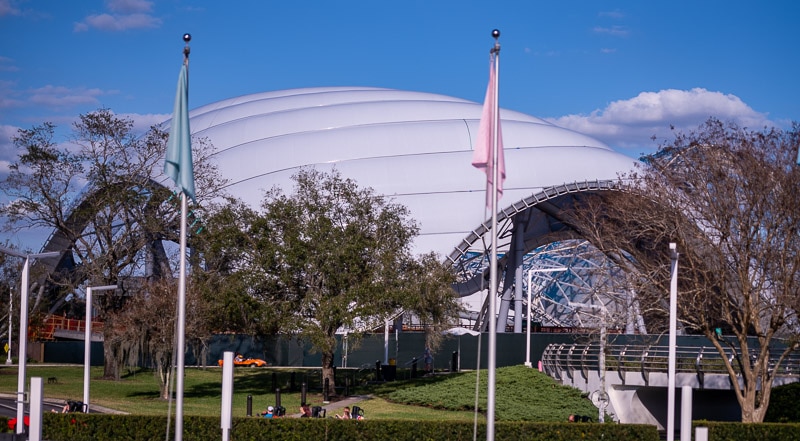 These construction photos demonstrate the significant progress that you can literally watch occur while visiting Magic Kingdom. Most notable is the installation of the ETFE cushion canopy to the support skeleton that took shape over the course of last year. The biggest difference? The roof membrane is going up much faster.
Last month at this time, none of the canopy had been installed. Now, it's almost one-third finished. At the current pace, the ETFE cushion roofing will be completed by April 2022.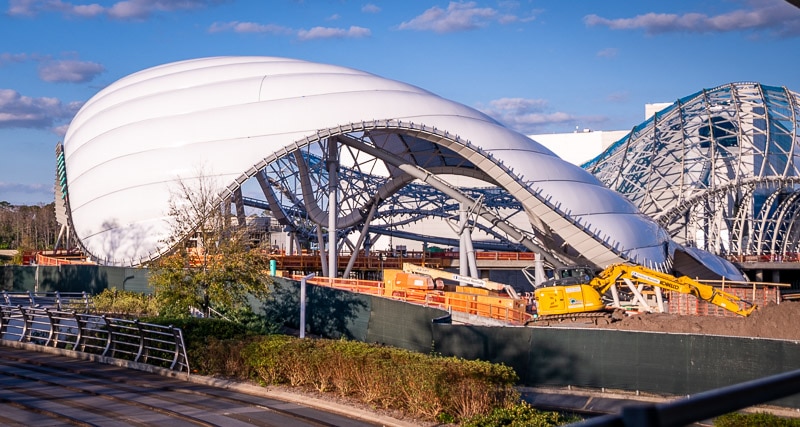 The reason this is going so quickly is because pre-cut rolls of the ETFE canopy cushion are loaded onto the temporary blue netting, unrolled, installed, and inflated. The futuristic (I think that's a fair term here) material gives the canopy its signature cell-like appearance, while offering other advantages. Ease of installation is one of them!
When finished, the biomimicry-inspired canopy will look awesome while also serving a practical purpose: covering guests as they approach and enter the attraction, and allowing the ride to run in the rain. Thankfully, Walt Disney World has learned its lesson on weather-related downtime for indoor/outdoor rides from Test Track.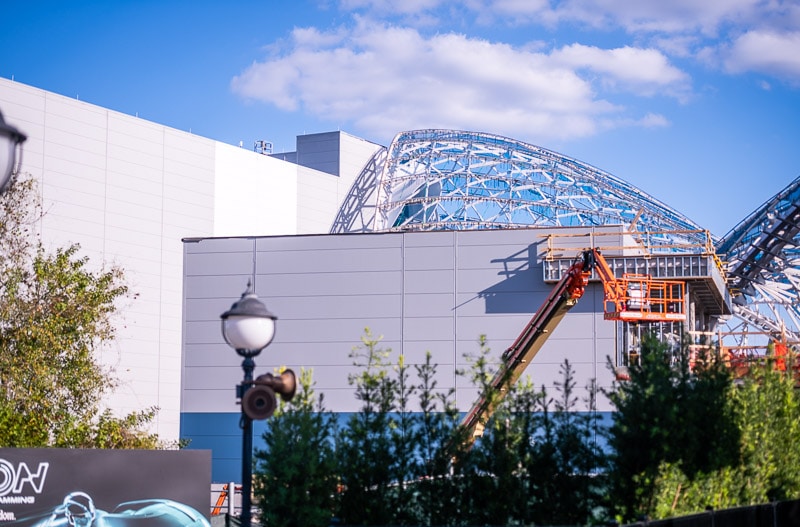 Work continues on the multi-story structure over by Storybook Circus and the Barnstormer queue. The purpose of this building remains an official mystery, but the winding walkway that leads guests to the entrance passes directly by it. Given that, possibilities include a gift shop, photo review area, or lockers.
Our money is on lockers. Although that might sound odd for a Magic Kingdom attraction, it's highly probable that guests will have to empty their pockets (meaning no phones or wallets on the ride, let alone bags or purses). That's the case on the Shanghai Disneyland version.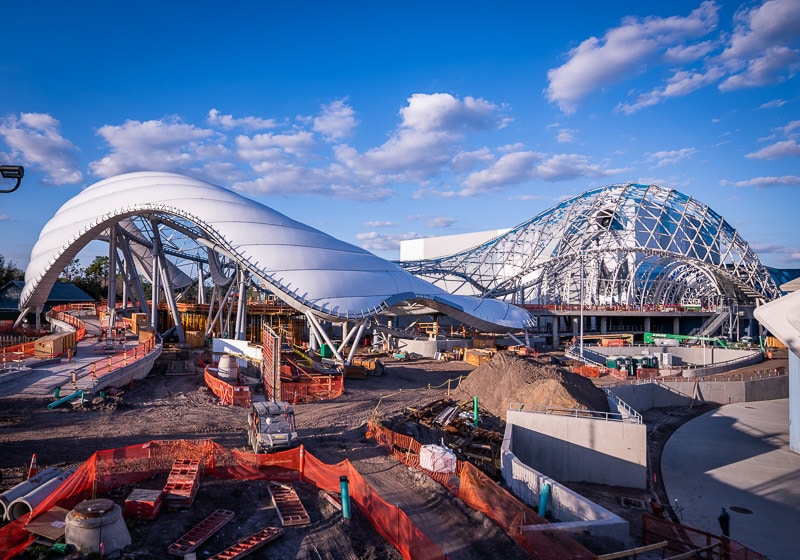 From the TTA Peoplemover, the results of all this activity are apparent. In addition to the ETFE cushion canopy, crews have been working on the ground and elevated pathway. There's a lot going on in the photos above and below, so let's break it down.
The flyover walkway (far left) will weave guests underneath the canopy, over the Walt Disney World Railroad tunnel (middle-left), and into the guest entrance (far right and below) of the show building. You can actually see a similar path in our photos of Shanghai Disneyland's version of the roller coaster throughout this post (minus the train stuff).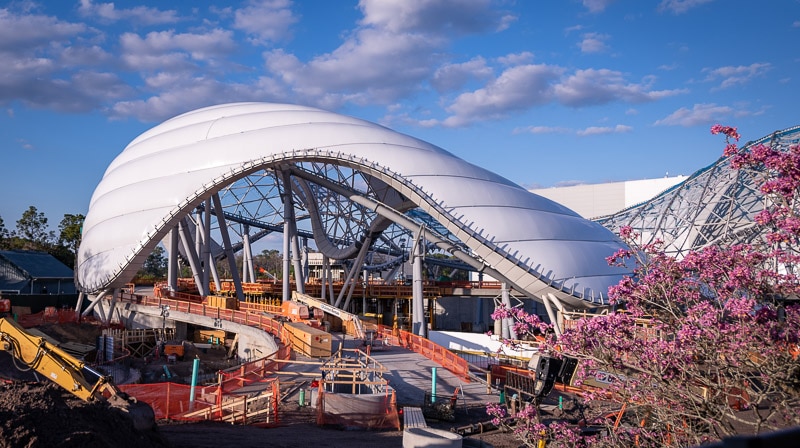 The photo above really highlights the flyover walkway, which has moved quickly over the last few months. The concrete is now finished here, and you can even see the foundation for the attraction marquee (triangular area in the bottom middle of the photo).
Obviously, it's still an active construction site with a lot of work occurring, but the roller coaster is now in the home stretch. Seriously. It may look like a lot of work remains to be done, but it'll go quickly from here. TRON Lightcycle Run could open in 2022. The question is…will it?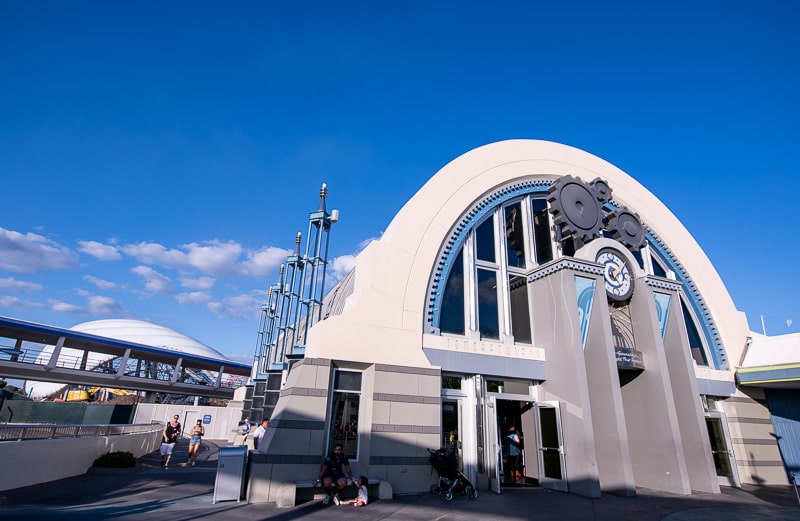 While TRON Lightcycle Run itself could be done late this year (assuming construction continues at its current pace), that doesn't mean the entire area will be ready. For one thing, the Tomorrowland Light & Power Co. building (Space Mountain gift shop) is a big question mark.
In early concept art, it looked like this would be converted into a breezeway through which guests could pass to reach TRON Lightcycle Run. It's unclear whether that's still the plan, if the building will be demolished, or if nothing at all will change about this area. The existing walkway is really narrow, and will become a crowd pinch-point if not addressed.
The other question is whether Walt Disney World even wants to open TRON Lightcycle Run in 2022. We'll address that next…
TRON Lightcycle Run Opening Date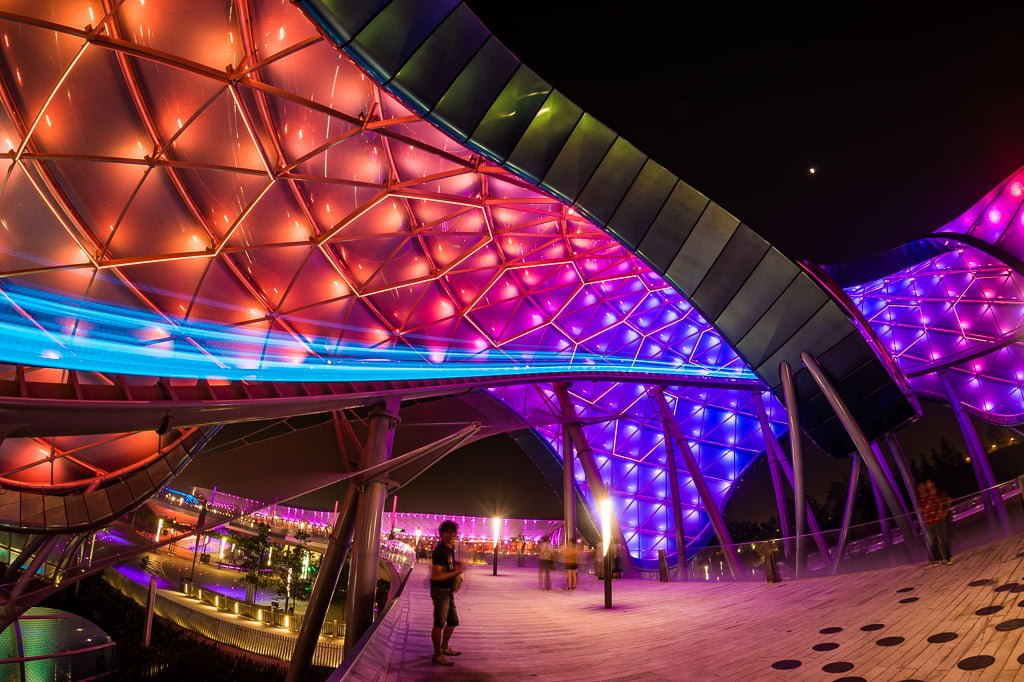 Now let's turn to the opening date of Magic Kingdom's upcoming thrill ride. Walt Disney World has dropped the line that TRON Lightcycle Run "is set to open at Magic Kingdom Park in time for Walt Disney World's 50th anniversary."
This is not surprising, as that was the plan prior to the multi-month closure of Walt Disney World, during which all construction stopped. Even after the parks reopened, work was slow to resume inside Magic Kingdom on TRON Lightcycle Run.
In our view, the best case scenario is that TRON Lightcycle Run debuts for a "second push" of Walt Disney World's 50th Anniversary. It's still too early for Walt Disney World to announce an official opening date.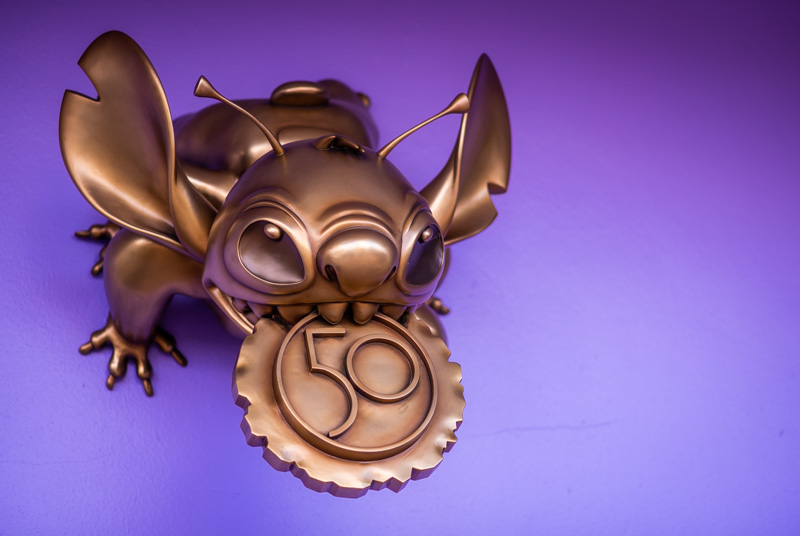 We've speculated repeatedly that Walt Disney World would deliberately stagger its new attraction debuts over the course of 2022 and 2023 as a way to incentivize new and repeat trips. Our thinking was that the debuts of Guardians of the Galaxy: Cosmic Rewind at Epcot and TRON Lightcycle Run at Magic Kingdom would be sufficiently spaced to give new bookings a shot in the arm.
Walt Disney World recently announced that Guardians of the Galaxy: Cosmic Rewind opens in Summer 2022. So where does that leave TRON Lightcycle Run's opening date?
Since the start of Walt Disney World's 50th Anniversary, the company has held a couple of preview events, and been mostly silent about TRON Lightcycle Run, beyond acknowledging its existence and that it's coming soon. (That's actually better than the treatment some projects have received.)
From that, we can glean that Guardians of the Galaxy: Cosmic Rewind is Walt Disney World's next big thing. It's certain that TRON Lightcycle Run will not open first–meaning it's debuting sometime after Summer 2022.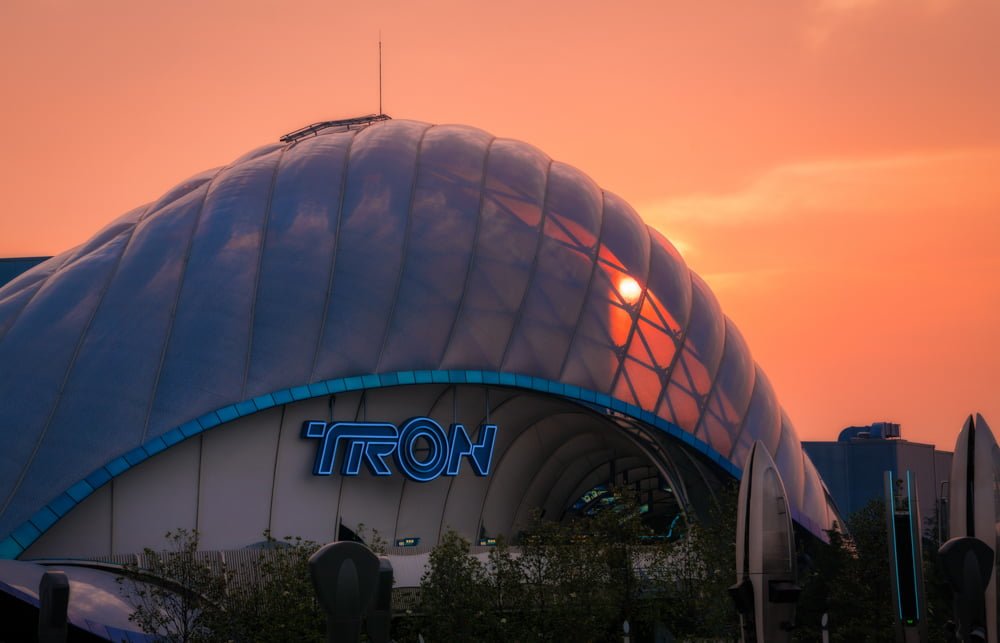 The question is how long after Summer 2022 will TRON Lightcycle Run open?
One possibility is that it'll be another year–that TRON Lightcycle Run will debut in Spring or Summer 2023. That's possible, and would explain why Disney has been relatively quiet about the ride. This spacing would be strategic since the attraction could be entirely finished well before then.
The delay would be more about when it's most financially advantageous to open another headliner ride after Cosmic Rewind. Spacing them out by a year would prompt some fans to take two trips instead of one, allowing Walt Disney World to benefit from two distinct marketing pushes.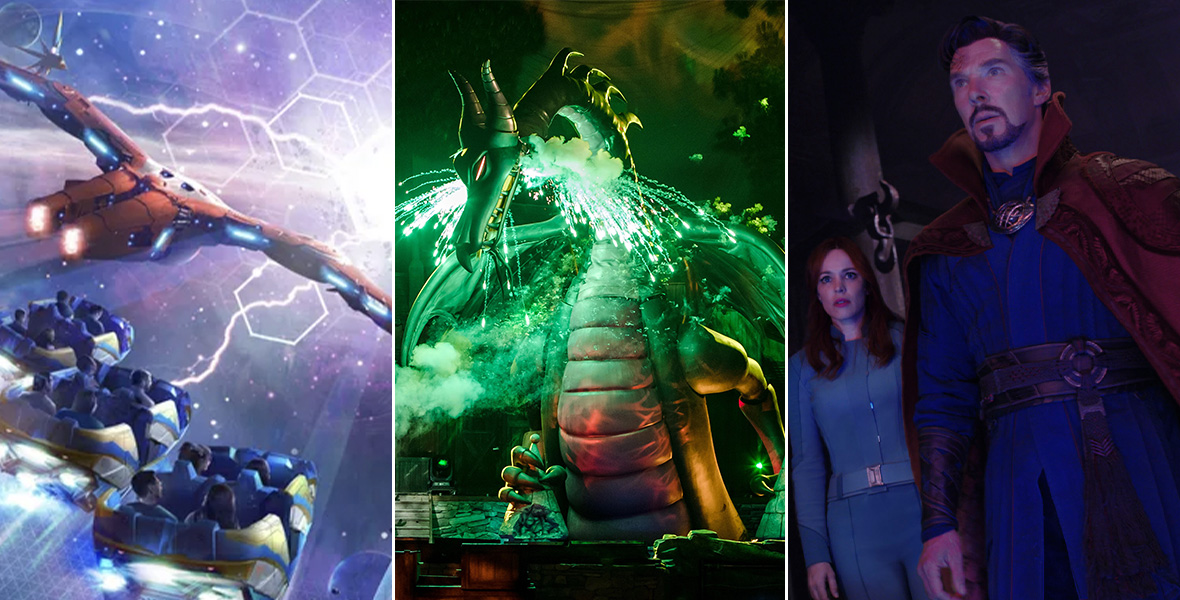 This perspective was reinforced by Disney itself, with D23's list of "Every Disney Moment We're Looking Forward to in 2022 excluding the TRON Lightcycle Run roller coaster.
Notably, last year's version of this same D23 list was where the company first tipped its hand that TRON Lightcycle Run and Guardians of the Galaxy: Cosmic Rewind would not open "in time for Walt Disney World's 50th Anniversary." Prior to that, there were rumors, but Disney itself hadn't addressed the delay one way or the other.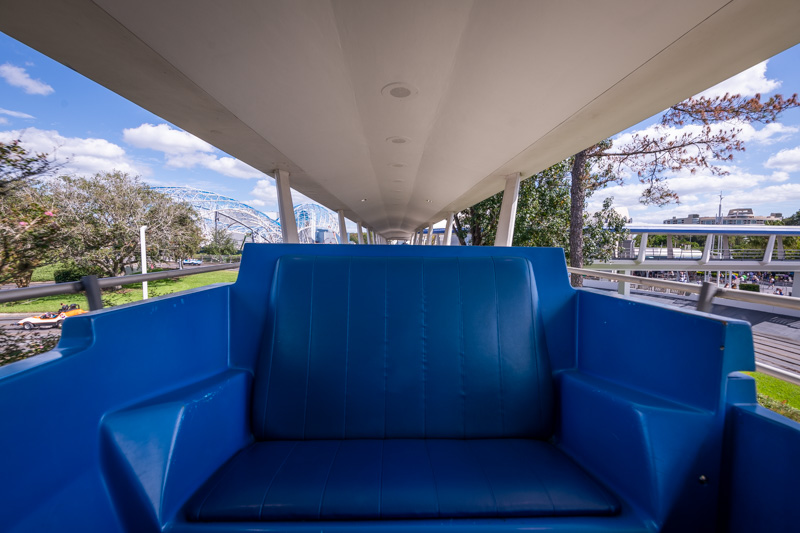 Another possibility is that Walt Disney World is being quiet about TRON Lightcycle Run right now because Cosmic Rewind is the focus, and what will be the PR push for Summer 2022 bookings. However, that alone doesn't preclude a Fall 2022 or Christmas 2022 debut of TRON Lightcycle Run.
It's possible that Walt Disney World will wait until Summer 2022 vacation bookings are strong on the basis of Cosmic Rewind, and then announce a late 2022 opening date for TRON Lightcycle Run. (Perhaps that announcement will occur during the D23 Expo in September 2022.)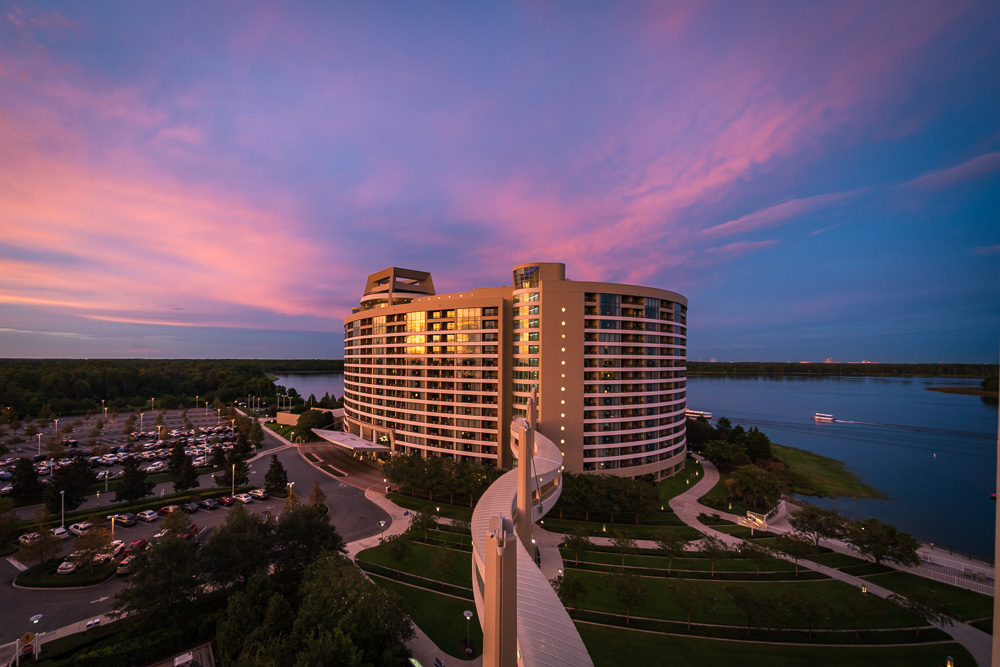 This isn't far fetched or unprecedented. To the contrary, it's a common practice by Disney Vacation Club to deny the existence of new properties even after they're an open secret due to permits and their construction is vertical. This is done to prevent softening sales on existing properties, as DVC fears that prospective buyers will be more inclined to wait for the shiny new resort instead.
Same idea here. Waiting to announce a date until after Summer 2022 would minimize the number of guests who wait until both new rides are open before booking trips. Disney not wanting to cannibalize the marketing impact of each would also explain why the company isn't saying much about TRON Lightcycle Run right now, despite a lot of activity on the construction site.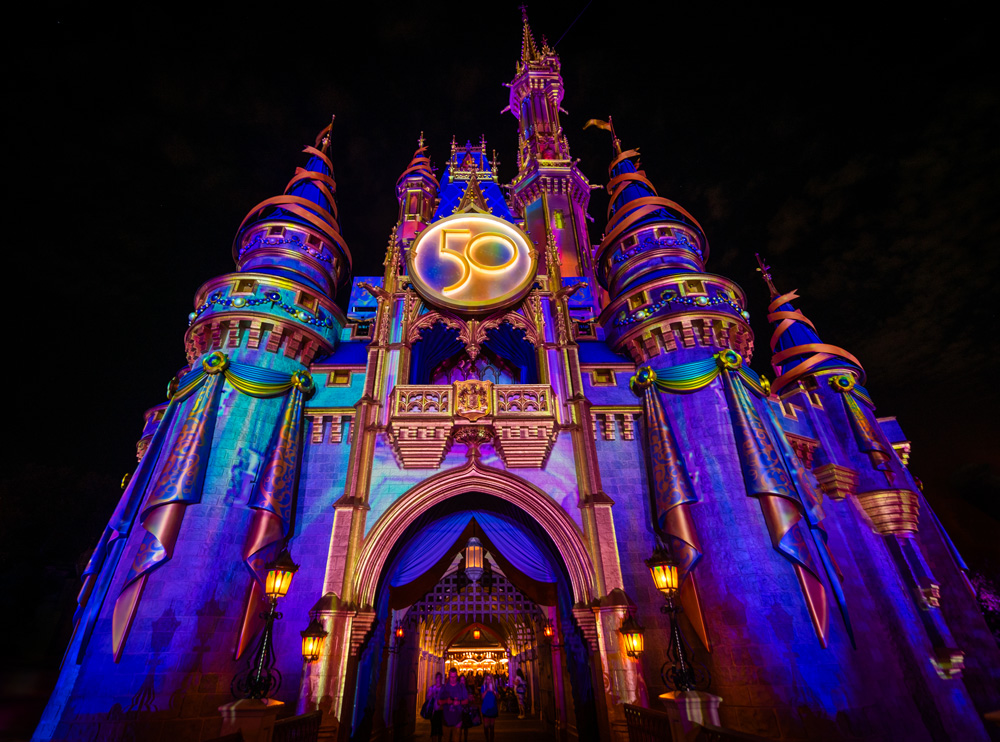 While it's entirely possible that TRON Lightcycle Run won't open until 2023, it's personally hard for me to reconcile the current pace of construction–and number of workers on site–with a more prolonged timeline.
It's true that Walt Disney World has sat on totally finished projects post-closure, waiting to debut them when most financially advantageous–but that has been with things that were substantially finished pre-closure. With TRON Lightcycle Run, the company slowed work…then resumed and accelerated it. Watching what has been happening in the last few months, it really doesn't appear that Disney is deliberately delaying TRON at this point.
With all of that said, if forced to choose possible opening dates for TRON Lightcycle Run, I'd go with October 1, 2022 at the very earliest. That's still a full year after it was supposed to debut.
That date is largely symbolic (Magic Kingdom's anniversary) but is also the start of a new fiscal year, which is significant for the company's financials. It's also possible that TRON Lightcycle Run opens in mid-November 2022 just before the busy holiday season. But I'm going to go with October 1, 2022 since that's "easier" when it comes to choosing a specific date. (There's almost zero chance it opens before October 1, 2022.)
As for the latest potential opening for TRON Lightcycle Run, I'll go with Summer 2023. I'd be absolutely shocked if the attraction is not open by Memorial Day 2023.
For my more moderate and "most likely" scenario, I'll predict that TRON Lightcycle Run opens on December 1, 2022. I'll go a step further and say that'll be accompanied by a full month of previews beforehand for Cast Members, Annual Passholders, Disney Vacation Club members, etc. In terms of past precedent, Star Wars: Rise of the Resistance and New Fantasyland both opened on the first Thursday in December–that just so happens to be the first day in the month in 2022.
To be crystal clear, that is not a rumored opening date or timeframe for TRON Lightcycle Run in Magic Kingdom. It's simply my speculative prediction based on what's likely and feasible given the current pace of work.
The good news is that Walt Disney World has been able to ramp up 50th Anniversary plans and demand is proving strong. This has emboldened Disney to get more aggressive with its projects.
While I really enjoy TRON Lightcycle Run, it "only" scored a 9/10 in our Shanghai Disneyland Ride Reviews. The big thing that prevented it from receiving a perfect 10/10 is duration. The coaster itself, from launch to return, lasts almost 60 seconds exactly. (Other internet resources suggest it's 2 minutes long–that's only accurate from load to unload, but a full minute of that isn't part of the ride experience at all.)
Another concern is the seating, which I've previously said (wrongly, I guess) would be what precluded this roller coaster from ever being cloned at Walt Disney World. As noted above, TRON Lightcycle Run has bike seating, with guests straddling the lightcycle, leaning forward and placing their chest and stomach flush with the front pad while handlebars come forward and a back restraint lowers.
It's a snug fit, like a tighter and more secure version of Flight of Passage in Pandora – World of Avatar. Shanghai Disneyland's version has accessible cars at the back of the trains. More accessible seating will be necessary in the Magic Kingdom version, as the normal bike seats aren't going to work for a lot of Walt Disney World guests.
Ultimately, TRON Lightcycle Run is a lot like Rock 'N' Roller Coaster. Both are fast launch roller coasters that largely take place in dark show buildings with a scattering of props and lean heavily on thrills. TRON Lightcycle Run will be about 20 seconds shorter, but it'll have an outdoor section, and superior visuals inside.
With all of that said, what cannot be overstated about TRON Lightcycle Run is the coolness factor thanks to the unique seating, flashy visuals, and that outdoor loop. This is a definite advantage it has over other roller coasters at Walt Disney World. While I wish it were about another 20-30 seconds longer, I think most fans will end up loving TRON Lightcycle Run.
Planning a Walt Disney World trip? Learn about hotels on our Walt Disney World Hotels Reviews page. For where to eat, read our Walt Disney World Restaurant Reviews. To save money on tickets or determine which type to buy, read our Tips for Saving Money on Walt Disney World Tickets post. Our What to Pack for Disney Trips post takes a unique look at clever items to take. For what to do and when to do it, our Walt Disney World Ride Guides will help. For comprehensive advice, the best place to start is our Walt Disney World Trip Planning Guide for everything you need to know!
YOUR THOUGHTS
What do you think of TRON Lightcycle Run? Are you excited for this new Magic Kingdom roller coaster, or does it not interest you? Thoughts on how the aesthetic will fit into Tomorrowland at Walt Disney World? Any questions? Hearing your feedback about your experiences is both interesting to us and helpful to other readers, so please share your thoughts or questions below in the comments!