This printable list of 150 screen-free activities for kids and teens is guaranteed to entertain every young person stuck at home!
This list of 150 screen-free activities for kids and teens is guaranteed to please every young person stuck at home. Parents don't want their kids to be glued to screens, and kids don't want to be bored. This printable solves both problems!
As homeschoolers, my kids are home pretty close to 24/7. I work a full-time job (from a home office), so I can't entertain them all day every day. They do have independent schoolwork which keeps them busy for a short time each day, but for the most part, it's up to them to busy themselves.
They would prefer to watch YouTube and play Minecraft all day and all night, but I'm not down with that. I want them to use their imaginations and their hands, to play and think and live – not just to consume.
After hearing "I'm bored" and "there's nothing to do" and "I don't have any good toys" for the fifty-thousandth time, I made this deck of cards. It's a printable that you can save and print on cardstock and hand to your kids. It's written straight to them, even including a note on the second page explaining that they will find fun things to do on the subsequent cards. All you have to do is print the PDF, cut the pages in half, fasten them together with a binder ring or a piece of string, hand it over, and walk away. Now your kids are responsible for their own fun.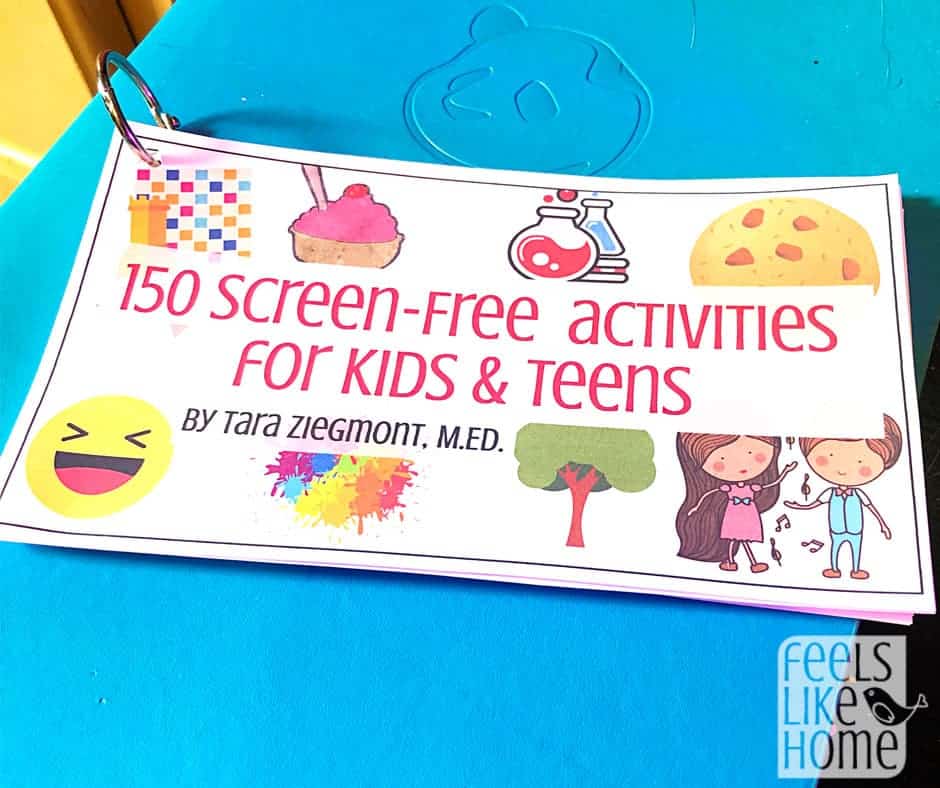 This deck of cards is especially timely given all that's going on with the coronavirus COVID-19. Schools in my state are on a mandatory two-week shutdown, and I know the same is happening all across the US and other parts of the world. Libraries, museums, and play places are all closing in an effort to prevent the spread of germs.
Which means… all parents are left with a big question mark. What am I going to do with my kids at home?
It's all quite worthwhile, but it leaves parents in a bad situation: what do you do with your kids for the next two weeks if you don't want them to rot their brains with unlimited screen time? That's where these cards come in. Hand them over and walk away. Let the kids figure out what to do next.
How Kids & Teens Will Use the Activity Cards
The activity cards are broken down into sections:
For being outside
For staying inside
For eating
For stretching your brain
For competing (These are games & contests.)
For laughing
For sharing kindness
For getting creative
You can specify that your kids do a certain section or you can just let them go. The weather is getting warm, and they will be able to do a lot of the outdoor items as well as all the rest of the activities. Your kids can select something from one of the lists, gather their materials, and go.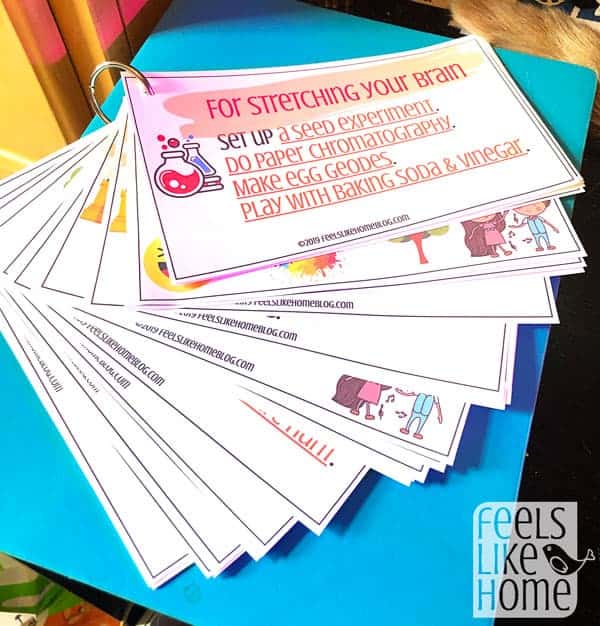 Some of the items on these cards require a little bit of reading on your part or on the part of your kids because they don't know about a lot of stuff. So take a look at the file when you get it. All of the text on the cards in orange is linked somewhere, mostly to my blog, with complete instructions and a list of materials required. I've made it super easy for you and for them. (Not all of the items are orange links. Most of them are black, self-explanatory activities.)
You can rest assured that everything on my site is kid friendly with no swearing or other objectionable content, so if you want to let them use the computer to figure out an activity on the cards, it is safe to do so. Or, like I said above, you can look it up and gather the materials yourself, printing out the blog post for your kids to use for instructions. It's up to you.
What's the Age Range for These Cards?
I wouldn't recommend these cards for kids who can't read (all. those. words.), although if you're going to do the activities with your kids, there's no reason that little ones couldn't use them too.
That said, I intended the cards for kids about 6 through 15 or so. There are things like Play-Doh that older kids might not love and things like camp out in the backyard that might not work for the younger ones, but for the most part, the activities span the whole age range just beautifully. Plus, there are enough items on the cards (a full 150!) that no kid is going to be interested in everything and all kids and teens will pick and choose from what's there anyway.
Will I have to wait to get the cards in the mail?
No, this is an electronic file that you can print at home right now, today. I recommend printing them on white cardstock, punching a hole in the top left corner, and using a binder ring to hold them all together, but if you're in a pinch and not wanting to go out for supplies, print them on plain paper and use a piece of string or yarn to hold them together. It matters less how you assemble than that you actually do.
Screen-Free Activities Cards will help you keep your sanity during this difficult time!
Keeping your kids busy during the COVID-19 social isolation period – or anytime they're hanging around at home – does not need to be painful, and it certainly does not need to include so much screen time that they turn into zombies. You can do this at home, and these cards will help!
GET 150 SCREEN-FREE ACTIVITIES FOR KIDS & TEENS TODAY!