*This post is sponsored by California Walnuts* Nothing beats a crunchy biscotti with a cup of tea. These California Walnut cranberry & white chocolate biscotti make a lovely lighter treat to enjoy during the festive period. For me, biscuits and cookies are the king of desserts. I would happily never eat any other dessert for the rest of my life ... Read More
*This post is sponsored by California
Walnuts*
Nothing beats a crunchy biscotti with a
cup of tea. These California Walnut cranberry & white chocolate biscotti
make a lovely lighter treat to enjoy during the festive period.
For me, biscuits and cookies are the king
of desserts. I would happily never eat any other dessert for the rest of my
life as long as I have access to crunchy biscuits – and they don't come
crunchier than biscotti!
I'm teaming up with California Walnuts to bring you an easy & fun festive walnut recipe to help you get Christmas, Cracked. I wanted to put a bit of a fun spin on the traditional biscotti, and make a walnut version to show how versatile walnuts are and showcase their great taste and texture- with added cranberries, cinnamon and orange zest to make them lovely and festive.
Just the way I think biscuits are the
king of desserts, walnuts are the king of the nut world! Here's a few reasons
why they're so special:
Walnuts are the only tree nut to contain a rich source of the plant-based omega-3, alpha-linolenic acid (ALA), 2.7g/ 30g* which the body can't make on its own so must come from food
30g of California Walnuts* offers 4.4 g of protein and 1.4 g of fibre[1].
They also contain thiamin (vitamin B1), vitamin B6, folate, vitamin E, phosphorus, magnesium, copper, manganese and biotin.
A handful a day is all you need to get the health and nutrition benefits of California Walnuts
As well as the
many health benefits they come with, California Walnuts have a beautiful mild
& creamy flavour. This makes them perfect for both sweet and savoury
dishes. They can easily be included in snacks, main meals and desserts! In
order to maintain their fresh taste, it's best to keep walnuts in the fridge
for up to 6 months. They can also be stored in the freezer for up to 12 months.
Another way I
love to use walnuts is as an alternative to meat, like I did to make this vegan Keema, Middle Eastern flat breads and Korean mince bowls.
You can check if your walnuts are from California as they would say Produce of California or Produce of USA on the pack. To find out more about California Walnuts and for more festive recipe ideas visit www.californiawalnuts.co.uk/tag/christmas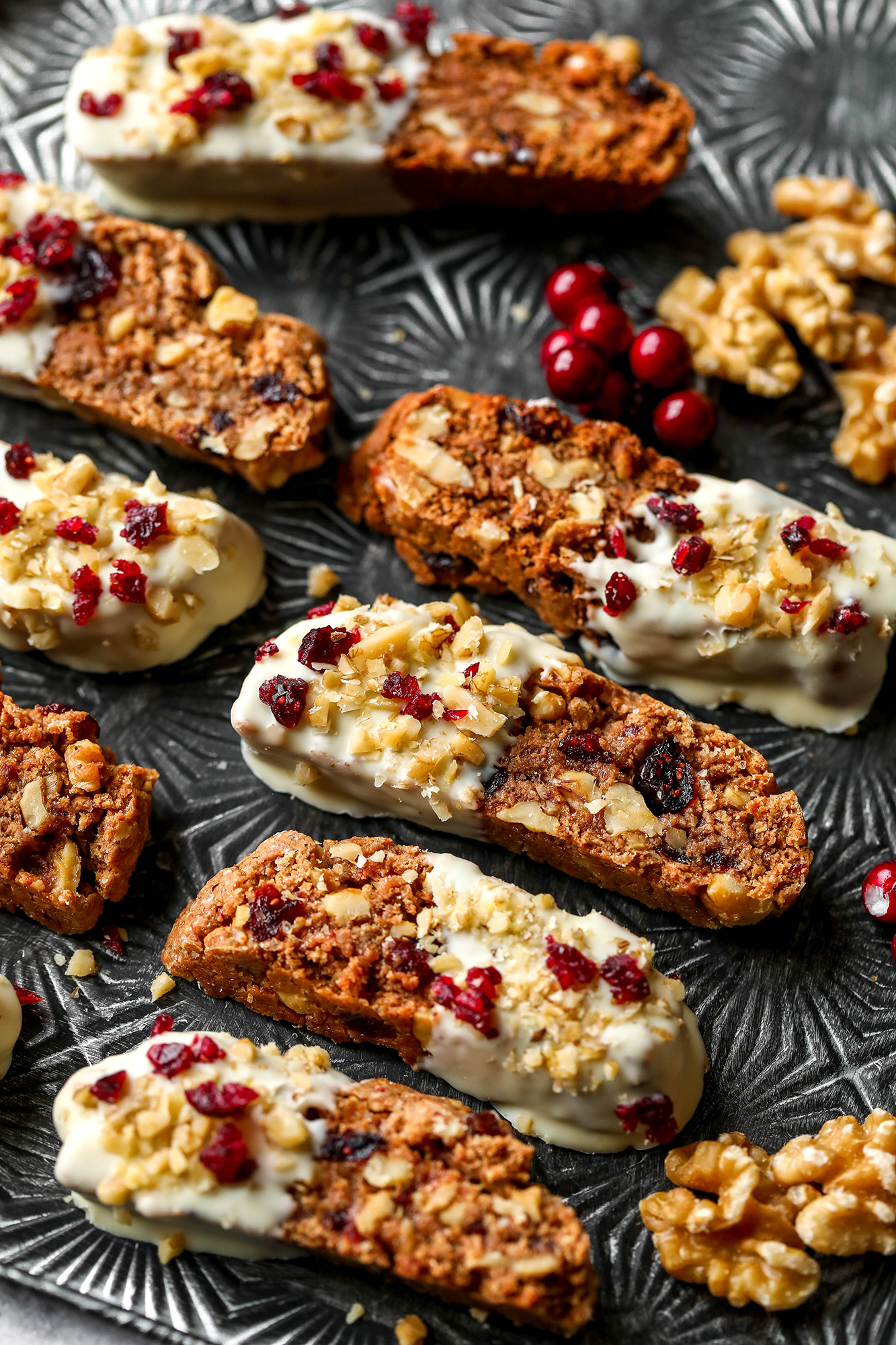 California Walnuts Cranberry & White Chocolate Biscotti
Makes: 10
Ingredients
120g wholemeal spelt flour
65g brown sugar
½ tsp baking powder
¼ tsp salt
1 tsp cinnamon
3 tbsp plant-based milk
2 1/2 tbsp coconut oil, melted
65g California Walnuts, finely chopped
20g dried cranberries, finely chopped
Zest of 1 orange
For the topping
50g white chocolate
35g California Walnuts, finely chopped
10g dried cranberries, finely chopped
Method
Preheat your oven to 180C/160C fan.
Mix together the flour, sugar, baking powder, salt and cinnamon in a large mixing bowl.
Pour in the milk and coconut oil and mix to form a dough.
Fold in the chopped California Walnuts, cranberries and orange zest, then shape into a 7inch long flat log.
Bake for 30 minutes, then take out and lower the oven temperature to 160C/140C fan.
Leave to cool for 15 minutes, then slice into 1.5 cm thick pieces. Carefully place back on the baking tray, then bake for 10 minutes on each side. Leave to cool completely.
Once cooled, dip half way in melted white chocolate and sprinkle with more chopped California Walnuts and cranberries.
Place in the fridge for 10 minutes to allow the chocolate to set.
Enjoy!
---
[1] Food Standards Agency (2002), McCance & Widdowson's The Composition of Foods, Seventh summary edition. Cambridge: Royal Society of Chemistry