*This post is sponsored by FREEE* A deliciously decadent tart that everyone can enjoy! This chocolate orange tart is vegan, gluten free, AND nut free.. With only one more sleep left before Christmas, I wanted to make a dessert that's really easy to put together, in case you're looking for a last-minute treat. I've always thought of chocolate and orange ... Read More
*This post is sponsored by FREEE*
A deliciously decadent tart that everyone can enjoy! This
chocolate orange tart is vegan, gluten free, AND nut free..
With only one more sleep left before Christmas, I wanted
to make a dessert that's really easy to put together, in case you're looking
for a last-minute treat. I've always thought of chocolate and orange as the
perfect festive sweet flavour combination. They just marry so well together and
help create the most luscious and delicious treats.
The base is made up of a simple mixture of FREEE Gluten Free Plain White Flour, dairy-free butter and water with a little bit of sugar to sweeten. The smooth velvety filling is made up of coconut milk, dark chocolate, and a little bit of maple syrup. I also used fresh orange juice and orange zest to add a hit of orange yumminess. That combined with the decadent dark chocolate makes it perfect for Christmas.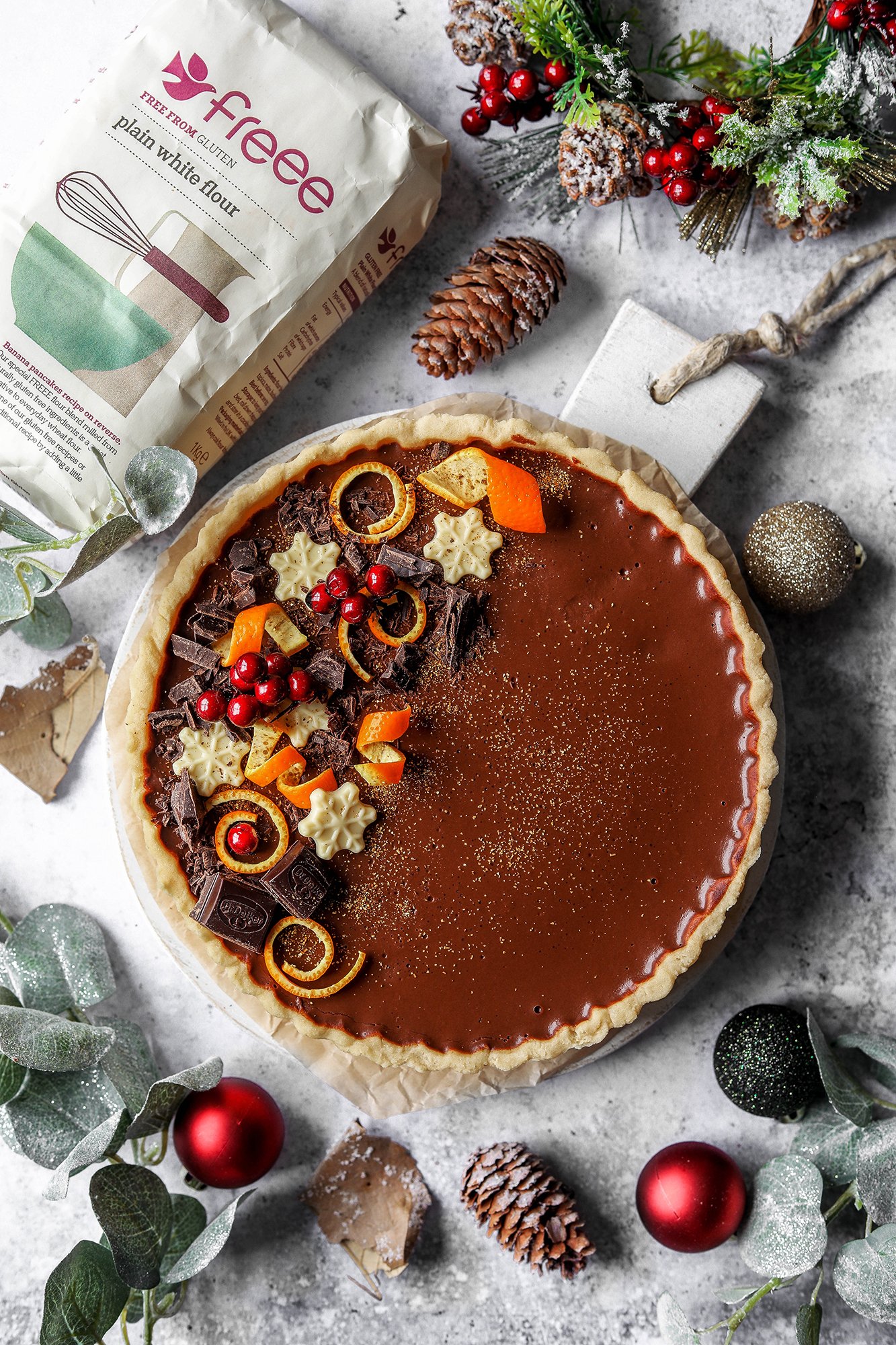 This is my final recipe in collaboration with FREEE.
We're teaming up to create delicious gluten-free bakes that everyone can enjoy
this Christmas using FREEE flours. It's as simple as 1, 2, FREEE! I've already
posted these gingerbread millionaires shortbread slices and I also recreated
their gluten free vegan yule log recipe. If you need more dessert inspiration,
make sure you check them out at www.freee-foods.co.uk
and @freeefoods on social!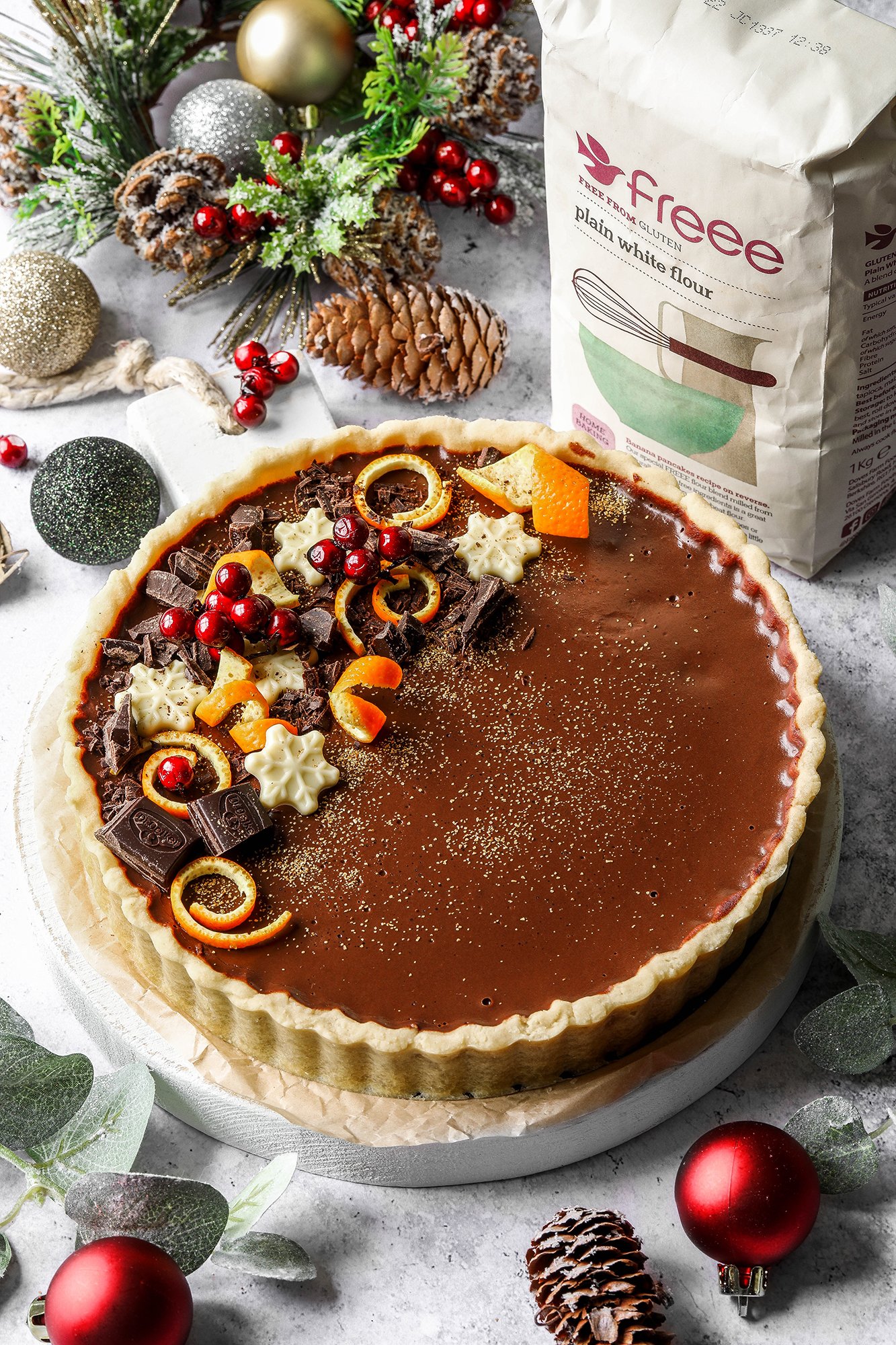 FREEE offers trusted and naturally gluten free food for
the whole day that never compromises on taste, is subject to a rigorous testing
regime and is always clearly labelled. All FREEE products are produced in
dedicated production facilities. The range is home to the #1 gluten free flour
range in the UK and incorporates baking mixes, cookies, oat bars, pasta and
breakfast cereals.
This chocolate orange tart is the perfect festive dessert to serve if you're having guests over for the big day or you're visiting family and want to take a little something special that's homemade. I always think homemade desserts taste better than shop bought, but they also add a personal touch that lets friends/family know that you're thinking about them.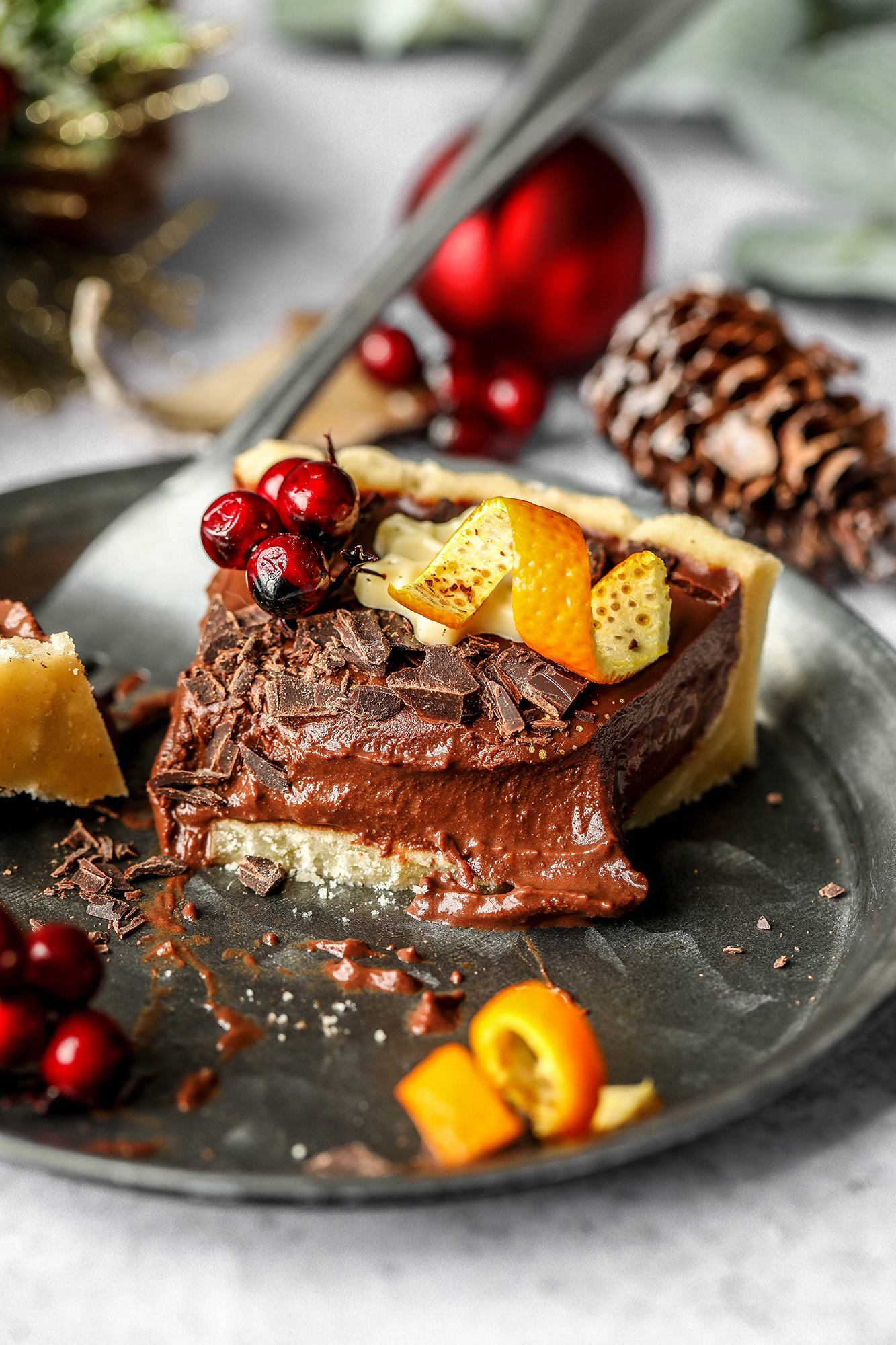 Gluten Free Vegan Chocolate Orange Tart
Serves – 10
Ingredients
For the base
200g FREEE Gluten Free Plain White Flour
100g dairy-free butter
5 tbsp cold water
For the chocolate orange filling
400ml can full fat coconut milk
300g dark chocolate, broken up into small pieces
Juice of 1 orange (around 80ml)
Zest of 2 oranges
60ml maple syrup
Method
Preheat your oven to 180C/160C fan
Rub a little butter around the inside of a 9" round loose base pie tin.
Mix the flour and sugar in a large bowl, then add the cold butter. Use a fork to work the butter into the flour until your mixture resembles breadcrumbs.
Stir in enough water to bring the pastry together into a soft slightly sticky ball of dough.
Press the dough into and up the sides of the pie tin and prick a few times with a fork.
Bake for 15 minutes, then leave to cool slightly.
In the meantime add all the filling ingredients into a saucepan and heat until everything is melted and smooth.
Pour into the pastry base, then leave to cool before transferring into the fridge to set for 4-5 hours.
Decorate and serve! Store in an air-tight container in the fridge for up to 4 days.
Enjoy!