*This post is sponsored by KoRo* Easy homemade fig rolls made with healthier ingredients. These vegan & gluten-free fig rolls are so yummy and go perfectly with a cup of tea! I started testing a fig roll recipe a couple of years ago and dabbled with it again here and there, but never really finalised a recipe I was happy ... Read More
*This post is sponsored by KoRo*
Easy homemade fig rolls made with healthier ingredients. These vegan & gluten-free fig rolls are so yummy and go perfectly with a cup of tea!
I started testing a fig roll recipe a couple of years ago and dabbled with it again here and there, but never really finalised a recipe I was happy with. A couple of months ago I had a mad craving for fig rolls, so decided to revisit the recipe and test it a couple more times.
I'm now finally happy with a recipe that tastes amazing, but is made with healthier ingredients making it better for you than shop bought fig rolls. I also used ingredients that made the recipe vegan friendly and gluten-free!
I'm a huge fan of using dates as a natural sweetener in desserts. Like dates, figs also a great way to naturally sweeten treats. I also find anything with dates and figs extremely comforting, especially in autumn and winter months. Now that we're almost officially in autumn, I thought I'd jump the gun and create my first autumn recipe for 2021!
I used dried figs that I got from KoRo – they have an AMAZING range of health foods that make your healthier treat making so much easier. They also have a massive range of snacks, treats, superfoods and baking essentials. They stock a lot of products that you can't find anywhere else in the UK. I can honestly spend hours browsing their products! Make sure you have a browse and if you decide to order anything, make sure you use my code NADIA5 at the checkout to get 5% off!!!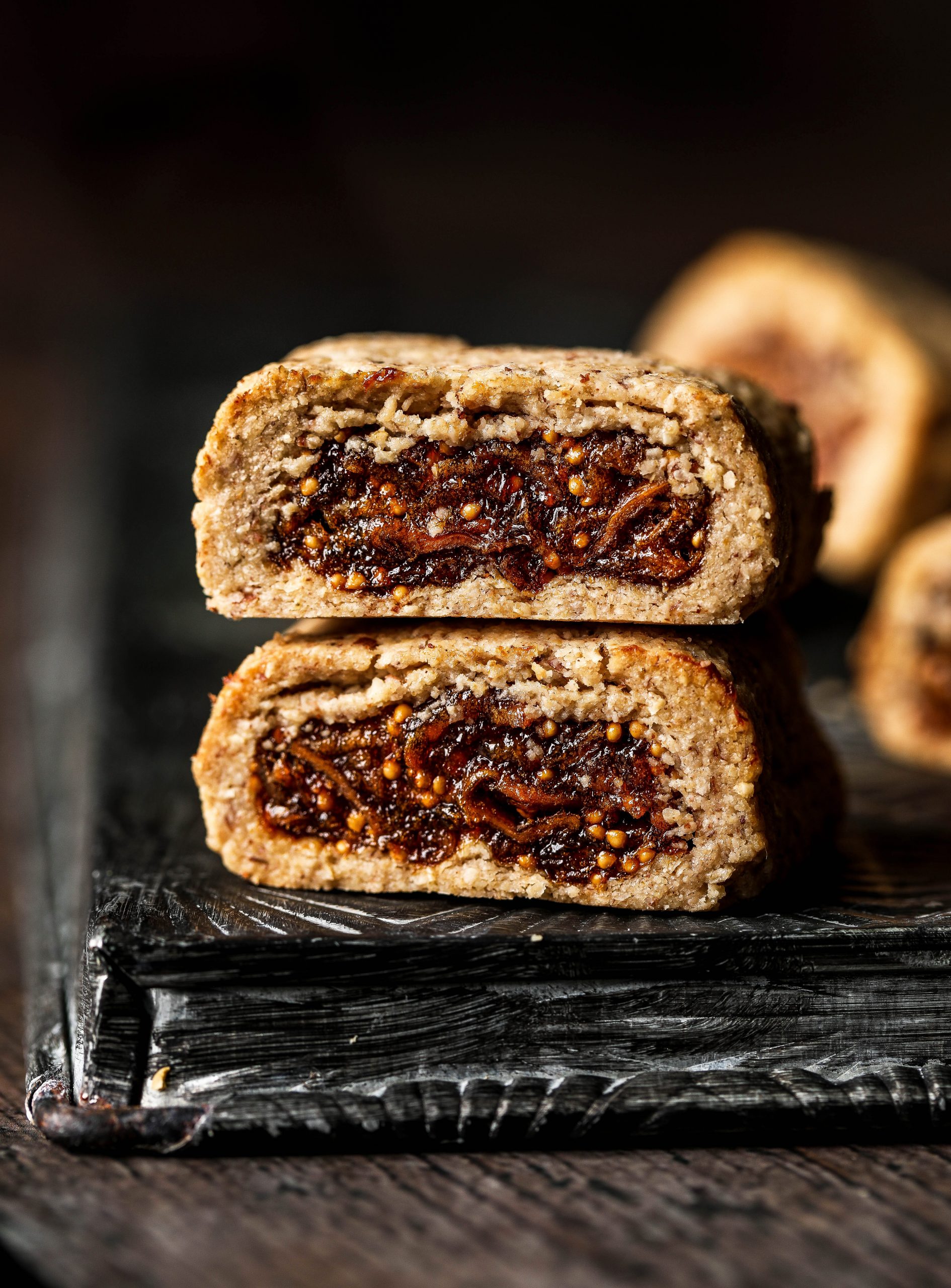 Vegan & Gluten-free Fig Rolls
makes 12
For the filling
200g Koro dried figs
3 tbsp water
For the biscuits
125g oat flour – rolled oats blended into a flour in the food processor. Use gluten-free oats if necessary
50g Koro ground almonds
1 tsp cinnamon
Pinch of salt
2 tbsp maple syrup
60ml melted coconut oil
Method
Preheat your oven to 180C/160C fan/350F
Add the figs and water in a large pan and cook on a medium heat for around 10 minutes. Use a wooden spoon or potato masher to mash the figs into a paste as they cook.
In a large bowl, mix together the oat flour, ground almonds, cinnamon and salt. Pour in the maple syrup and coconut oil and mix to combine.
Chill the dough in the fridge for 30 minutes to allow the coconut oil to solidify and make it easier to work with.
Roll the dough out into a 20×20 square between two sheets of parchment paper. Slice down the middle to create 2 long pieces.
Divide the fig mixture between the 2 pieces of pastry. Spread along one side, then carefully start rolling into a tight cylinder. Place in the freezer for 15-30 minutes then cut into cookies.
Arrange on a baking tray lined with parchment paper and bake for 15-20 minutes until the edges are golden brown.
Leave to cool completely and enjoy!