Sentimental & thoughtful Mother's Day crafts including both traditional and unique ideas for homemade and often inexpensive gifts.
46 DIY sentimental and thoughtful Mother's Day gift ideas for Mom or Grandma including many unique and traditional ideas for homemade and often inexpensive gifts. Cute, creative, simple, and easy projects, many with pictures, photos, and/or flowers.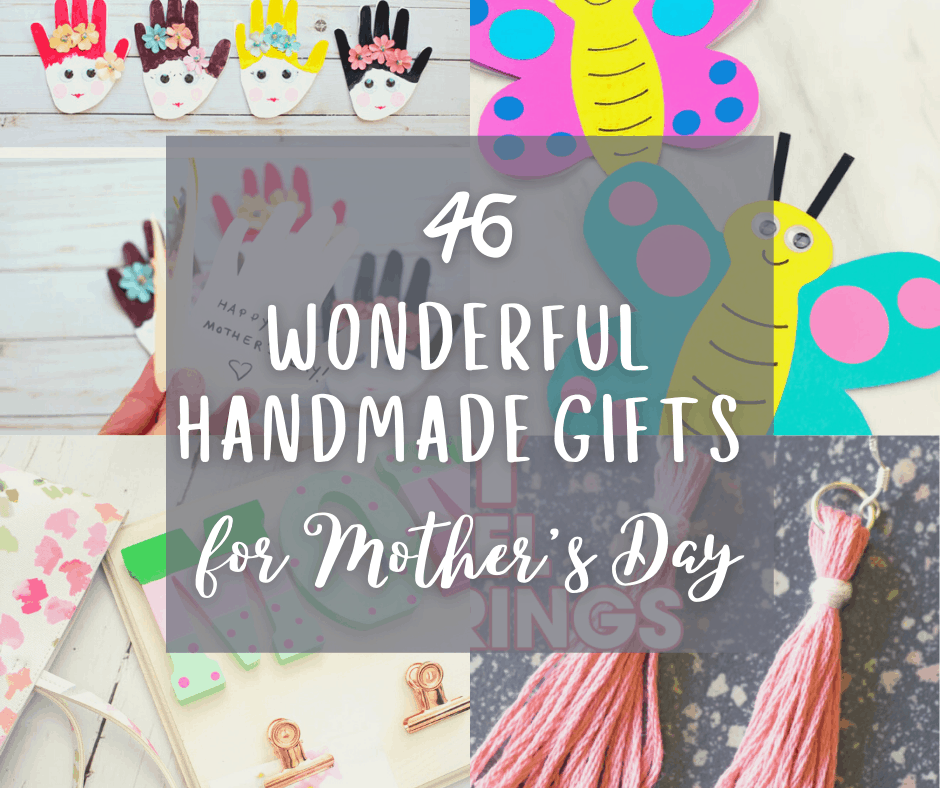 I love homemade Mother's Day gifts. Who doesn't? I mean, they are crafted by the hands of my children, whether alone or with someone else.
Again, I have scoured the internet for the best Mother's Day craft tutorials out there – the cutest, the sweetest, the most heartfelt – and include them below. (I say I did it again because I published this post of the 40 best DIY Mother's Day projects back in 2018.)
The Mother's Day projects below are listed in order of increasing difficulty. The ones at the very bottom require a hot oven, hot grill, or hot glue gun and are obviously not suited to independent crafting by younger children. The ones at the top are appropriate for even the youngest children although they too will likely need a bit of guidance and assistance from an adult or at least a teen.
Share your completed projects on Pinterest so I can see them too!
If you're looking for homemade gifts for more Mother's Day or Father's Day gift ideas, check out those links. They contain dozens more of DIY gifts!
And, don't forget about the ultimate Mother's Day gesture – breakfast in bed! Here are 42 awesome breakfast in bed recipes for Mother's Day or any day of the year.
Looking for a new Mother's Day tradition? Head over here for 22 new ones to try out.
All About My Mom – Mother's Day Interview Questions for Kids – Feels Like Home
This beautiful, full color printable includes Mother's Day interview questions for kids, 2 pages full of coupons for Mom, and a Mother's Day Mad-Lib. Print these and put them in a binder, and Mom will keep it forever!
Check this out
Handprint Heart Card – All About Baby Blog
Make this handprint card with your littlest ones, then decorate as you please — and don't forget to let your toddler draw on it.
Check this out
Mother's Day Poem Preschool Printable – Simply Full of Delight
Here's a Mother's Day Poem Printable with 3 versions to fit your needs. It can be colored, finger-painted, or hand-printed to create the perfect Mother's Day craft.
Check this out
Mother's Day handprint card – Non-Toy Gifts
Gift the gift of growth with this handprint card for mom! Color and decorate it with a face and leave a message inside.
Check this out
Mother's Day Button Card Craft with Handprints – Fun Learning Life
This Mother's Day craft is great if you have buttons you don't know what to do with. Finger-painted flower petals make this especially memorable.
Check this out
Bubble Painting – Typically Simple
Bubble painting is a fun way to create art without a paint brush. If your kids love bubbles, they'll love painting a colorful work of art for mom to tack on the fridge.
Check this out
Vegetable Oil and Colored Water Abstract Art – Dream A Little Bigger
Made with materials you already have in the kitchen, this abstract art is sure to wow mom and anyone else who steps into your home. It's a conversation piece and fun too!
Check this out
Mothers Day Coloring Pages For Grandma – Cenzerely Yours
Try these FREE printable Mother's Day coloring pages for grandma! Super cute coloring sheets to make a special DIY gift for a special lady!
Check this out
Mother's Day Activities in Spanish for Preschoolers – Lorena Y Lennox
These preschool printables promote STEAM learning while they learn about Mama! They're also great if you want to start teaching your child Spanish.
Check this out
Flower Craft & Mothers Day Card Template – Kindergarten Worksheets and Games
Create a beautiful flower for mom with this lacing flower craft. Use the flower template to make stand-alone flowers or the mother day card PDF.
Check this out
Printable Cat Mother's Day Card – Messy Little Monster
This printable cat card is purrrfect for moms like me who love cats! There is also a unicorn card template available.
Check this out
DIY Heart String Art – Lil Tigers
This heart shaped string art for beginners is the perfect project for wood lovers. All you need is wood, nails, and rubber bands or string.
Check this out
Rainbow String Art for Beginners – Feels Like Home
I have always loved the look of string art, but I never tried to make it until last year. My first attempt turned out beautiful but was a major pain in the neck. After getting lots of advice from the interwebs, I made some changes and turned out an even better second project.
Check this out
Moms Are Like Buttons – Making Manzanita
This button craft is so simple even kids can make it. The article teaches you how to make button flowers with an easy step by step tutorial and also provides a free Moms Are Like buttons printable gift tag and card to go along with it.
Check this out
Mother's Day Breakfast Basket – Creative Lifestyles
Treat mom this mother's day with a breakfast basket full of goodies just for her. Personalize even further with flowers, a mug, and trinkets!
Check this out
DIY Fold Over Elastic Hair Ties – Hello Sewing
Make mom happy with these cute hair ties. Fold over elastic hair ties are expensive to buy, but really simple to make. Do you know that you can make one in under 2 minutes? So easy and fun!
Check this out
Valentine's Day Tea Light – Red Ted Art
Turn old mason jars into tea light holders (or mini vases) with this cute, easy fire-safe craft!
Check this out
Butterfly Card Craft For Kids – Simple Everyday Mom
This spring-themed butterfly craft is perfect for little ones. It promotes STEAM and allows for messages hidden beneath the butterfly wings. It's sure to flutter mother's heart.
Check this out
Tie-Dye Heart Art Seed Paper – Bunny's Garden
Beautiful tie dye heart seed paper makes a special craft or gift for Mother's Day. Kids can also make these for Grandma and send them in the mail. Plant and grow flowers in your garden from this beautiful craft!
Check this out
Watercolor Flower Garden Card – Barley and Birch
Show your artsy side with this beautiful watercolor card Mom is sure to love! Include a packet of seeds as a metaphor for ever-growing love.
Check this out
Watch Me Grow Mason Jar Gift – Julie Measures
Watch Me Grow! This potted plant mason jar gift is perfect for Mothers Day to celebrate growth and motherhood all at the same time. Plant some seeds or transplant an existing one.
Check this out
Herb Terrarium – Feels Like Home
I love plants, so this herb terrarium was a perfect craft for me. I kept it going for almost a year, and then I forgot to water it. And then you can guess what happened. Anyway, mom will love to have some kitchen-ready herbs all potted and ready for snipping, so a terrarium is a great option for Mother's Day!
Check this out
Dollar Tree Welcome Sign Wreath
How to Make a Dollar Tree Welcome Sign Wreath for spring and summer in less than 15 minutes for your door decor. This easy DIY wreath costs under $10.
Check this out
Palm Leaf Zippered Pouch – Persia Lou
Give a gift great for spring to hold mom's essentials that she'll use through summer! Make it more personal by painting a symbol (like feathers) or something of interest.
Check this out
Picket Fence Card with Flower Faces – Fun Learning Life
This photo keepsake is great for spring decor and looks like flowers sticking out over a picket fence.
Check this out
DIY Tassel Necklace – Feels Like Home
Make this tassel necklace in shades of mom's favorite color, and she'll wear it all the time!
Check this out
DIY Tassel Earrings – Pop Shop America
Make these tassel earrings to match mom's tassel necklace (see above) and she'll have a beautiful set to wear year-round!
Check this out
DIY Chocolate Orange Hand Scrub Recipe – Feels Like Home
This chocolate orange sugar scrub smells just like the chocolate oranges you can buy at Christmastime.
Check this out
DIY Lip Scrub – Beauty Crafter
This DIY lip scrub is super easy to make and mom will actually use it. The recipe even comes with cute printable labels to make your gift complete.
Check this out
5 Amazing DIY Body Scrubs – Beauty on 44th Street
Gift sophistication and relaxation with these DIY body scrubs! These are great for teens — you can even add them to a self-care basket!
Check this out
Cucumber Mint Sugar Scrub – Creations by Kara
Soften up that dry flaky skin with this all natural sugar scrub. It is so easy to make and a great gift idea!
Check this out
DIY Aloe Vera Cream – Simply Beyond Herbs
This easy to absorb, moisturizing and healing aloe vera cream is made of all-natural ingredients that nourish and heal your skin or hair.
Check this out
I (Heart) Mom Bag – Needlepointers
This inexpensive bag will help mom feel special and give her a place to hold her essentials.
Check this out
Paper Rose Craft – Ottawa Mommy Club
This Rose paper craft is so easy to do and has such great results. The template is included so you can easily get started. They are also ideal to give on Mother's Day!
Check this out
Easy Tissue Paper Flowers – Momma Lew
Learn how to make easy adorable tissue paper flowers. They're so much fun and perfect for kids to make for Mother's Day gifts.
Check this out
3D Rolled Paper Roses Flower Basket Card – Mombrite
This 3D DIY rolled paper roses flower basket card is easy to craft with the free printable template. The paper flowers look so realistic and make a great gift for Valentine's Day and Mother's Day.
Check this out
Koala and Baby Card – Gifts Mad in Crafts
This Cricut project features a mother koala and a baby for her pouch, showing the sweet love between mama and baby.
Check this out
Colorful DIY Lockets – Happy Hour Projects
Make up these colorful glass lockets in a flash but using pre-stamped disc charms, and adding your favorite colors. Customize with paint and engraved metal discs.
Check this out
Felt Flowers – Happiness is Homemade
A bouquet of these pretty no-sew felt flowers makes a wonderful homemade Mother's Day gift idea. Easy enough for kids to make, but fun for adults, too. If my mom was alive, I would have my kids make these for her this year. They are so cute!
Check this out
Easy DIY Garden Stepping Stones – Fluxing Well
These easy garden stepping stones are simple and fun to make. They can be personalized to create a long-lasting, treasured keepsake.
Check this out
Photo Holder for Mom – Crafts by Amanda
Take some pics, then create this photo holder decor item so Mom can display them! Great for preteens and teens who want to deliver something with a little more pizzazz.
Check this out
DIY Mother's Day Scented Candle – Saving You Deniro
This candle keepsake puts on a spin on DIY candles and features your child's drawing and a favorite scent! Note: DO NOT burn this candle if you add perfume; it's better for looks only
Check this out
DIY Dollar Tree Lantern – Craftsy Hacks
This dollar store DIY is inexpensive, yet sophisticated — and you could even make it using old picture frames sitting in storage.
Check this out
How to Make No Sew DIY Lavender Sachets – Feels Like Home
These could not be easier, and they smell and look so nice that your mom will want one for every drawer and closet in her house. I made these with my 10 and 11 year old Girl Scouts a couple of weeks ago, and they loved them. They wanted to make more and more to give as gifts. Seriously, you can make a dozen of them in about five minutes.
Check this out
Mother's Day Handmade Sharpie Mug – The Faithful Help Meet
This Mother's Day handmade sharpie mug is perfect for kids of all ages to make (with a little adult help) and is the perfect gift to show mom how much she means to you. All you need is a plain white coffee mug, some oil based sharpies and a stencil.
Check this out
Marbled Mugs Made with Nail Polish – DIY Candy
Preteens and teens will enjoy using their old nail polish to create this charming marbled mugs. They are easy to make and take just minutes. Plus, they cost less than $1 each!
Check this out
Cupcake Flower Pots – Food Meanderings
Play with your food to make these edible cupcake flower pots — great for big families!
Check this out
Heart Shaped Brownies – Tasty Galaxy
Tell Mom that you love her with these heart shaped brownies! Made in just 5 minutes, these are the easiest brownies you can make.
Check this out
Melted Bead Sun Catchers – Feels Like Home
This is one of my favorite projects, and everyone we gave them to way back in 2013 still has them hanging out on the porch. They last forever, and they're super easy to make.
Check this out
These pretty butterfly crafts are great, too. Check them out if you're still looking for more beautiful Mother's Day projects!
I hope you found something on this list that you'll be able to make with the kids in your life. Tell me in the comments – what are you going to craft for Mother's Day?