Let's celebrate Independence Day with these easy & fun Fourth of July crafts, activities, printables, and red, white, and blue foods for kids.
Let's celebrate Independence Day with these easy & fun Fourth of July crafts, activities, printables, and red, white, and blue foods for kids of all ages from toddler to teen! Includes 30 awesome patriotic activities for July 4th or any time of the summer.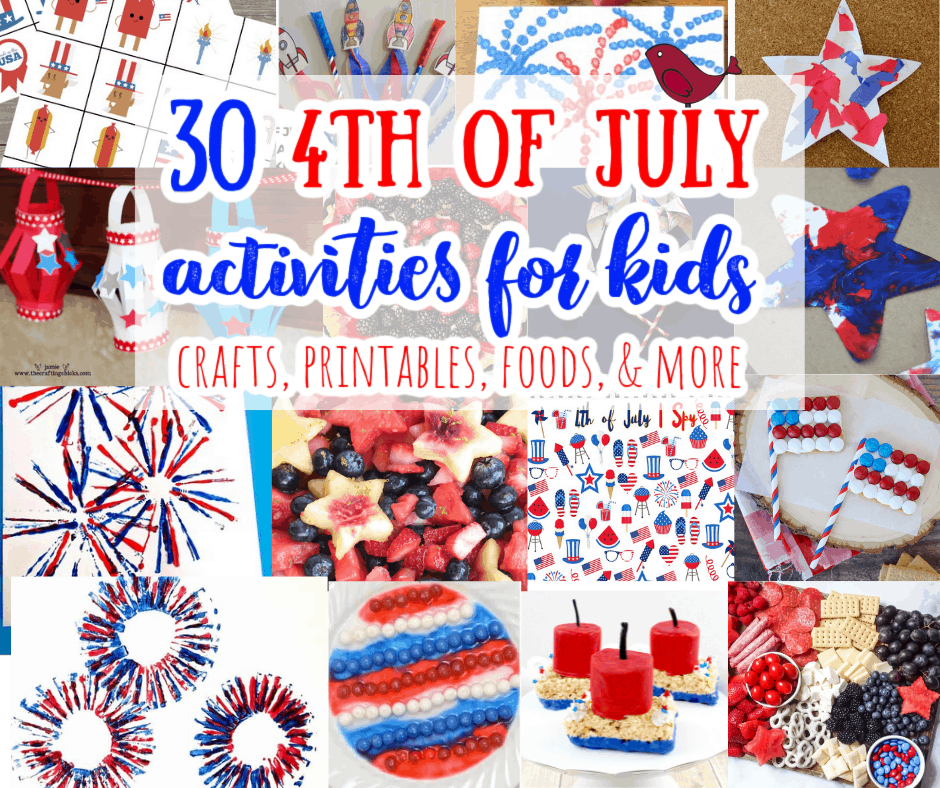 I'm going to make a blanket statement for my entire family when I say that Fourth of July circa 2020 was a dud.
Don't get me wrong, a global pandemic is a legitimate reason to cancel large gatherings of people clustered together to see a firework display. Still, it was a difficult time, especially for my daughters.
If you're currently in the boat of hopefuls who dream of a better year this year (don't worry, I am steering that ship), I'm sure you want to fill this Fourth of July with family, fireworks, and fun activities. (Not all of our pets will agree about the fireworks part!)
I'm a huge fan of simple crafts that a wide range of ages can enjoy, so I've gathered 30 Fourth of July Activities for Kids that are suitable for children ages three and up. The activities are divided into crafts, printables, and snacks that your kids can help you make, so there's something for everyone's interests.
You may also be interested in 15 Independence Day Activities for Kids that I shared in 2014. It's still as good as ever.
Fourth of July in 2021
I'm not going to lie to you – I have no idea what the 2021 version of Fourth of July will look like. Regardless of the public events that may or may not be held in your area, I think it's essential to make this day as memorable as possible for the children in our lives, even the tweens and teens.
Picking two or three of these activities to sprinkle throughout your Independence Day creates opportunities for building memories and spend time together. It also works to bring back some sense of normalcy after a year of the polar opposite of normal.
Bring on the fun!
11 Fourth of July Crafts
You can make most of these kids' Fourth of July crafts from materials you already have in your craft cabinet at home. These are always my favorite kind!
Patriotic Torn Paper Stars – Frogs and Snails and Puppy Dog Tails
Your littlest children will love tearing up bits of paper to glue onto these patriotic stars. This is also an excellent way for school-age children to practice drawing their own stars and improving scissor and gluing skills.
Check this out
Mess Free Patriotic Star Painting – Toddler Approved
Did someone say a mess-free toddler craft? The world could use more of these, I say. I'm going to venture out on a limb and say that even older children will love to participate in this, as it involves shaking a paint-covered ball around in a shoebox. I might even call dibs on this one.
Check this out
Fireworks Craft for Kids – Crafty Morning
Kids of all ages will enjoy creating firework masterpieces, and it can all be done with straws, paint, and paper! I urge you to use a washable acrylic or tempera paint for the sake of your sanity, especially with toddlers.
Check this out
Easy Toilet Paper Roll Fireworks – Mombrite
I have a confession to make – sometimes I hoard empty toilet paper rolls. Maybe it's the hoarder in me; it's hard to say. If you're like me, you'll be extra prepared for this delightfully messy and fun firework painting activity.
Check this out
4th of July Skittles Science Experiment – Little Bins Little Hands
This yummy Skittles science experiment is perfect for helping children work on color sorting skills and creating patterns. They also learn about color disbursement in a visually engaging way. Just make sure you save some of the non-soggy Skittles for a post-experiment treat!
Check this out
Easy-to-make fireworks in a jar – Gift of Curiosity
If you have a child who is scared by fireworks or is particularly sensitive to sensory overstimulation, this craft allows them to enjoy a visual display without the noise. It's also a fun science experiment to talk about the properties of oil and water.
Check this out
How to Make Patriotic Art with Pointillism
This incorporate an informal art lesson in this patriotic craft. You could start by showing your children examples of pointillism artwork and then tell them that they get to create their own 4th of July versions of this. It's also an excellent way to work on fine motor skills.
Check this out
Paper Lanterns, 4th of July Style – Crafting Chicks
These patriotic paper lanterns are a fun and creative way to decorate your front porch or yard for the 4th of July, and your children will love decorating them and deciding where to put them on display.
Check this out
DIY Patriotic Pinwheels Craft for Kids – Melissa & Doug Blog
These DIY pinwheels are a fun way to showcase your child's existing artwork in a fresh new way. After further checking, it doesn't seem that the Melissa and Doug Swirl N' Spin is available anymore, but these pinwheels can be created easily using a simple spin art maker (I linked the one we have below). Your child can take them to summer gatherings, parades, the park, and more.
Check this out
Here's our spin art machine:
4th of July Straw Rockets – Creative QT
These simple straw rockets will keep your children entertained for hours at your Fourth of July gathering. Each child can customize his or her firework or rocket ship printable, and this craft only requires a few materials. Hold a contest to see whose rocket flies the farthest!
Check this out
American Flag Pom Pom Craft – Any Reason Life
You'll have to help younger children create the pom-pom, but they'll enjoy playing with them (and so will your cats). These make fun attachments to backpacks, bookmarks, or hair accessories for the Fourth as well.
Check this out
9 Fun Fourth of July Printables
4th Of July Coloring Page Bundle – Tiny Blue House
Each of these patriotic printables is filled with fun Fourth of July-themed images for your child to color. Use these to build excitement for the big day or as activity stations for family gatherings. There are four free printables to choose from, and each end product will be as unique as the person coloring it.
Check this out
4th of July I Spy Printable – Kleinworth and Company
Younger children will love working on this eye-catching printable while they wait for the next big Fourth of July event. It's perfect for preschool-age kiddos and up, especially since pictures of each item are included at the bottom of the page.
Check this out
Free Printable Fourth of July Bingo – Alice and Lois
Bring the whole family in on the fun with this Fourth of July Bingo game. If you're looking for ideas for prizes, grab some smaller, kid-friendly fireworks to hand out for each victory.
Check this out
Printable 4th of July Memory Game – Smart Party Planning
Most kids, and preschoolers in particular, love memory games, and they'll be thrilled when older siblings (or you) join the challenge. I'm relatively certain my daughters would beat me, but I would put forth an admirable effort!
Also, make sure you print this on cardstock or plan to use a colored piece of paper to glue to the back so that you can't see through the game pieces.
Check this out
Fourth of July Scavenger Hunt – Young at Heart Mommy
Home-based scavenger hunts have been all the rage this past year, and I have a feeling that they've saved more than one desperate mother's sanity. If you're planning a family Fourth of July gathering, this printable would be the perfect way to have the kids burn off some energy.
Check this out
Independence Day Printable Writing Prompts – Hessun Academy
I'm a big fan of creative writing, and I love to encourage this activity with my daughters as well. I like that these free Fourth of July writing prompts use pictures instead of questions or statements to allow the writer free rein in creating stories and poems.
Check this out
4th of July Word Scramble – Moms & Munchkins
This Fourth of July-themed printable would be perfect for a long car ride to Grandma's. It features patriotic buzzwords that your child must unscramble.
Check this out
4th of July Word Search – Laura's Crafty Life
This 4th of July word search is perfect for at school or at home and includes a printable answer key. The words are on the easier side so it's great for new readers.
Check this out
Letters to Soldiers – Coffee and Carpool
It's important for children to develop kindness and empathy as well as an awareness of the significance of Independence Day. I can't think of a better way to accomplish this than to help them write letters to soldiers deployed over this memorable holiday. A free template is included with this activity, or your child can create her own.
Check this out
10 Fourth of July Snacks Kids Can Make
I am blessed with a daughter who loves to cook, so I would be remiss if I didn't include some food-centered Fourth of July activities. Each of these is simple enough that your child can participate in some (or all) of the creation process, depending on her age.
Red, White, & Blue Fruit Salad – Feels Like Home
This simple and easy red, white, and blue fruit salad with honey lime dressing is the best recipe for your summer holiday parties and picnics, and it's super easy to put together with a star-shaped cookie cutter.
Check this out
Easy No Bake Berry Trifle – Feels Like Home
Easy berry trifle is perfect for kids to make on July 4th. With pound cake and fresh fruit, everyone loves this patriotic dessert!
Check this out
Red White & Blue Fruit Tart – Feels Like Home
Easy pre-made pie crust, light cream cheese filling, & sweet berries make this the perfect patriotic dessert for July 4th! It is baked before filling, so even the smallest children can help with everything after it comes out of the oven.
Check this out
Patriotic Snack Mix for 4th of July – Sprinkle Some Fun
This red, white, and blue trail mix may not last very long at your holiday gathering, so you'll want to reserve some for yourself, I mean, your children. My favorite part is that you can make flags out of the ingredients!
Check this out
Graham Cracker Flags for the 4th of July – It's Always Autumn
You're welcome to use leftover patriotic paper straws to make these delicious graham cracker flags. Younger children will enjoy creating patterns with the M&Ms, and they make adorable party favors.
Check this out
4th of July Edible Firecracker Rice Krispies Treats – Surviving a Teacher's Salary
Traditional Rice Krispy treats take on a whole new look with these edible firecrackers. As with actual fireworks, don't expect them to last too long on the dessert table!
Check this out
Patriotic Charcuterie Board – Tasty Oven
Charcuterie boards are all the rage right now, and a patriotic red, white and blue one is an easy party food for kids to help prepare. They can be simple and involve no cooking (leave that for the grill!), and they are perfect for kids who like to graze and snack all afternoon. (Isn't that every kid ever?)
Check this out
Patriotic Red White and Blue Puppy Chow – MomSkoop
There are few things in life as tempting as Puppy Chow, and it's so easy and convenient to make. All you need is a microwave, a few ingredients, and voila! You're on your way to heavenly goodness.
Check this out
Red White and Blue Bark – The Chunky Chef
This patriotic candy bark is a breeze to make and is sure to be a hit at your Fourth of July BBQ. Your children will love swirling the colors and creating designs in the chocolate, and everyone will love partaking in the results.
Check this out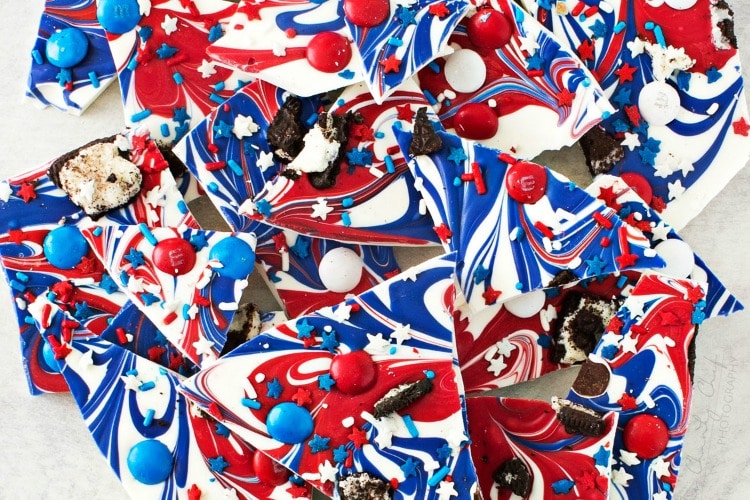 4th of July Sour Cream Sugar Cookies with Cream Cheese Frosting – Saving Talents
Sour cream may not sound like it has any place in the sugar cookie world, but we know differently. Ask your child to grab a few star-shaped cookie cutters, whip up some dough, and see for yourself. This recipe is so versatile, and it works for every holiday.
Check this out